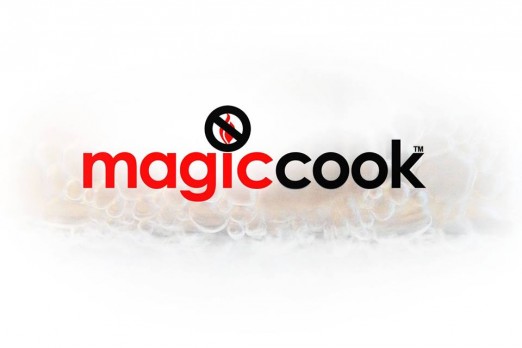 Sharon Yu sent me some products to do a Magic Cook review. She did a deal with Daymond, who invested $100K for 33% of Magic Cook in episode 612 in season six.
Magic Cook consists of a plastic vessel with a stainless steel insert. You put the food you want to cook in the insert, put one of Magic Cook's proprietary heat packets in the plastic vessel, add a little water,  put the stainless steel insert on top, then seal it all up with the special clamping cover. In 7-10 minutes, the meal is cooked. There's also a travel coffee cup version that works the same way.
Magic Cook Review: Does it work?
I used a can of clam chowder in the lunchbox version and made tea in the coffee cup version. In 8 minutes, both were piping hot! Check out the video to see how well it works!
We live near Boston and experience power outages frequently when there is heavy snow. We've even lost power during hurricanes. Having a Magic Cook in the house will be a big help when we lose power. Sharon was kind enough to send along two ten packs of the heating packets so we won't run out. You can cook a lot of things besides a can of soup in it too; perhaps Sharon should write a recipe book for Magic Cook!
Here's what it looks like before we opened it up: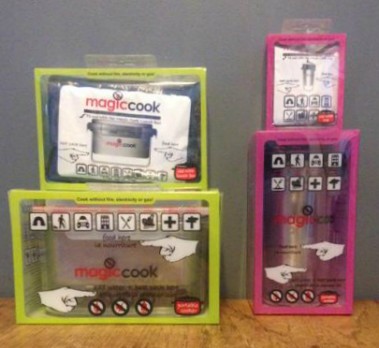 All in all, I was very pleased with the Magic Cook's performance. It works as advertised, in fact, I had to let the tea cool a bit before I drank it because it was so hot! This is a handy product to keep on hand for emergencies and power outages, it would also be good for camping or even taking to school or work to heat up a hot lunch.
When I first saw the product, I thought it was a good idea if it worked as advertised. It does work as advertised and now I'm glad I have one!
Sharon is offering a Magic Cook as a prize to a lucky Shark Tank reader. Subscribe to our mailing list to become eligible.