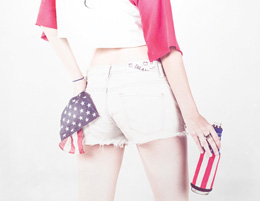 The Freaker grooves into the Shark Tank Friday night with a line of one size fits all, hand knit koozies. Entrepreneur Zach Crain hopes the Sharks will dig his products which have the mission of "preventing moist hand shakes and keeping beverages insulated in style."
Freakers are proudly "made in the Freakin' USA" in Troy, North Carolina. They're knit beverage holders, like the ubiquitous foam koozies you'd find at any liquor store or beverage company promotional event. Each Freaker will fit on just about any beverage container you can find, from a standard twelve ounce can to a two liter bottle. They come in a wide variety of colorful designs and each Freaker has  a "custom" feel.
Company History
Zach originally made Freakers from old sweaters. He test marketed them in a local store in Wilmington, North Carolina and they sold out quickly. That's when he sought out a sock factory in nearby Troy to manufacture them for him. Next, Freaker took a hint from Gary Gagnon of Remyxx Sneakers from season three and ran a Kickstarter campaign to raise money. They managed to raise $62,770 to get the business off the ground!
Zach assembled a team of young, fun folks who aren't afraid to let their freak flags fly to manage and grow the business with the mission of "Freaking the World – starting with the USA."  Zach comes across as a wacky, crazy hippy dude (back in the Happy Valley he'd be coined "earthy/crunchy"); I say he's crazy like a fox! The Freaker Kickstarter video was picked by Kickstarter as one of the top 12 videos of the year in 2011. The video is embedded below this post and is very creative and fun storytelling. Zach has managed to make the Freaker a lifestyle brand for the hip, young crowd (and those of us pretending to still be hip and young). The products is fresh, unique and shows the world that building a business can be more than just spread sheets and sales charts (though I suspect they use those too, albeit in wild colors).
The Freaker rotates out different designs periodically on their website, presumably to take advantage of seasonal trends and to eliminate stock of poor sellers. At any given time, there are several dozen different designs available for sale. Freaker has a small, but expanding retail presence too. The Freaker is available in 22 states from Maine to California; most stores that carry the Freaker tend to be of the "mom and pop" variety.
Will the Sharks Freak out over Freaker?
Zach promises to be one of the more memorable entrepreneurs to appear in the Shark Tank. He has a wild, almost manaical,  sense of humor that will seem out-of-place with the buttoned down sharks. He will walk into the tank in a top hat and tails and look more like a tripped out Dead Head than a serious entrepreneur. Don't let his looks fool you, the guy is smart and focused on growing his business. His product is unique, has a low price point, and has mass appeal. The fact that he crowd funded over $60,000 will cause the sharks to sit up straight and take notice.
Freaker should have enough sales to demonstrate proof of concept, so there ought to be interest from the sharks. I am thinking this could be a huge licensing play. The young, hip, freakish, brand would be a big hit with the college crowd; that's a demographic that enjoys their beverages. Think of Freakers endowed with college logos all over the USA. Even professional sports teams could be emblazoned on a Freaker. Zach's current manufacturing facility can put just about any design on a Freaker, so licensing would just be a matter of paperwork.
The Freaker could also be a great promotional item. Beverage companies could put their logo on a Freaker and either give them away or sell them to enhance their own branding. Zach definitely has a grasp of how he wants to brand his own product, so branding for other products should be a snap. As long as his request for funding is reasonable, I think one of the Sharks will bite on Freaker. Whether Zach gets a deal in the Shark Tank or not, he's going to move a lot of Freakin' product on Friday night.
I am Freakin' "IN!"
Here's the Freaker Kickstarter video: