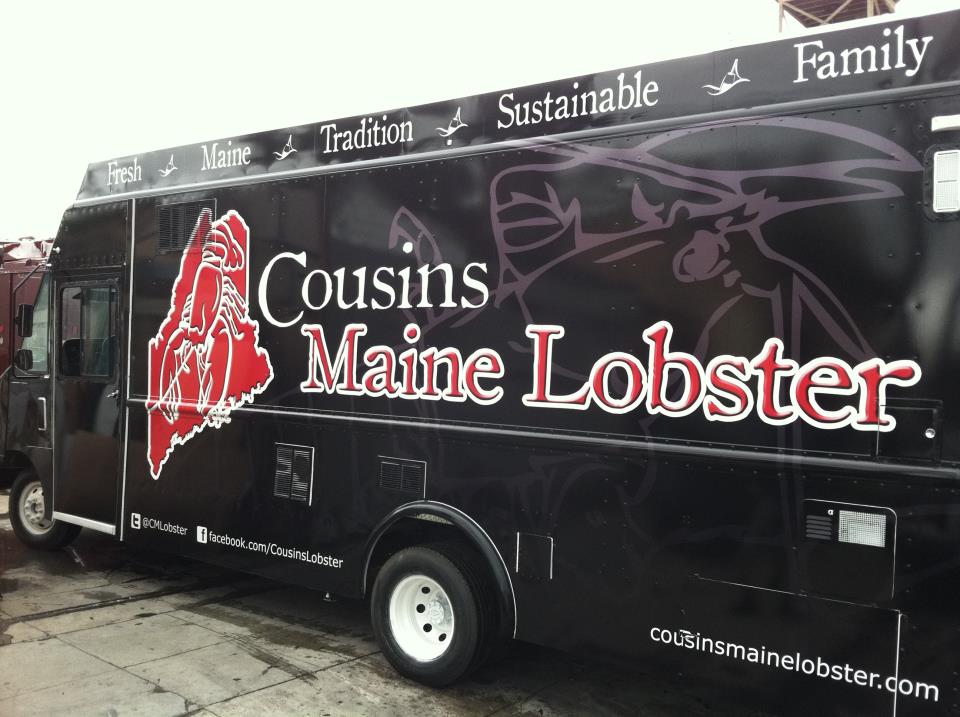 Cousins Maine Lobster makes a splash in the Shark Tank in episode 406 with a mobile food truck that specializes in Maine Lobster! Entrepreneurs Jim Tselikis and Sabin Lomac (who really are cousins) hope the Sharks like lobster as they seek funding for their popular food truck that serves Maine Lobster rolls and other related Maine fare.
As a former food truck owner, I was excited to see this business on the docket for Shark Tank. I envisioned a jaunt up to Portland for some lunch and fact-finding, but the Cousins Lobster Truck is located in Los Angeles, not Maine. LA is a bit too far of a ride for me.
Cousins Lobster Truck brings Maine to LA
Jim Tselikis was born and raised in Maine and relocated to Boston after he graduated college. Sabin Lomac was born in San Diego, but his mom is a Mainer and the family moved back when he was five. Poor Sabin, he had to grow up with the Mainers' distinction of being "from away." The boys grew up on lobster, as most Mainers do. Lobster is a delicious delicacy that always tastes better in Maine. Back in 2003, Sabin moved out to LA where food trucks were becoming all the rage. In 2011, he coaxed his cousin, Jim, out west and they started Cousins Lobster Truck to cash in on the exploding LA street food scene.
Portland, Maine is only about an hour and a half away from me (without traffic) and my wife and I spend quite a bit of time in Maine each summer. We both love lobster, and in recent years, the price has come down. Last summer, you could find lobster for as little as three bucks a pound retail! The Cousins saw this opportunity and they used their local Maine connections to buy lobster and ship it to LA to serve on the Cousins Lobster Truck. As the website says, "Our Maine lobster is sent fresh, straight to California, where it is served 24 hours later at east coast prices." The Cousins Lobster Truck recently began serving their Maine fare at a brick and mortar restaurant called the  Live Mixx Lounge in Pasadenda. Future brick and mortar locations may be in the cousins' future. Their business is certainly a big hit with street food aficionados and they hope to expand with a little help from the Shark Tank.
Sharks in the Lobster Tank
Food trucks are a growing trend, and Cousins Lobster Truck has capitalized on that trend with an east coast spin out on the west coast. If the cousins were doing this business in their native Maine, they'd be just another place to get a lobster roll. The fact they are able to get fresh Maine lobster out to Los Angeles quickly is what sets them apart in that market. The Sharks will know all about the food truck craze, and they will undoubtedly like the samples the cousins bring them, but I am not sure the sharks will bite.
Food trucks and restaurants are a dicey business; I know, I owned and operated a food truck for six years. Cousins Lobster Truck has a great concept and is doing very well, but it is largely due to their own efforts. Running a food truck is an eight day a week, 25 hour a day endeavor. Duplicating that business is very difficult because it relies on excellent employees who must buy in to the concept. Taking a food truck to a brick and mortar establishment is a huge leap too. Cousins Lobster Truck has a good LA brand, but there is no underlying product to "anchor" it.  I just can't see the Sharks underwriting a fleet of food trucks or a brick and mortar restaurant. While I really like Cousins Lobster Truck, I think the Sharks will be "out."