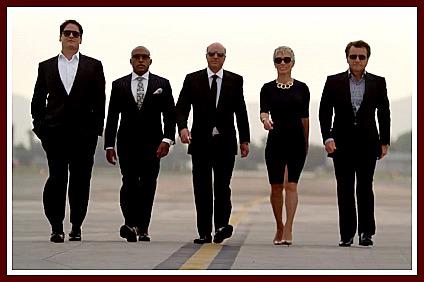 Shark Tank episode 406 airs Friday night with 4 new entrepreneurs diving into the Shark Tank, hoping to get the Sharks' expertise and CA$H to fund their growing businesses. Barbara Corcoran returns this week along with the rest of "the boys:" Mark Cuban, Robert Herjavec, Daymond John and Kevin O'Leary.
Episode 406 Entrepreneurs
Cousins Lobster Truck is a Los Angeles area food truck that brings fresh Maine Lobster to LA street food lovers. Entrepreneurs and real-life cousins Jim Tselikis and  Sabin Lomac have recently ventured into a brick and mortar location and hope the Shark Tank can help fund their expanding food empire. Can lobsters survive in the Shark Tank?
The Freaker lets its freak flag fly in the Shark Tank with a unique and funky twist on the traditional foam koozie. Brilliantly quirky entrepreneur Zach Crain hopes the Sharks will like his one size fits all beverage insulator and fund his vision to "Freak the World." Will the Sharks like the Freaker or will they just freak out?
PRO-NRG is a protein infused sports drink poised to take the nation by storm with its unique combination of a hydrating beverage that packs a protein punch. Business owner  Helen Khorosh enlists the help of New York Giants great Brandon Jacobs to entice the sharks into a deal. Do the Sharks drink the PRO-NRG koolaid or just do a spit take?
EcoNuts introduces the Sharks to their line of organic, all natural soaps made from soapberries. Business partners Scott Shields and Mona Weiss share a love for the environment and look to take their niche leading organic soaps and cleaning products to the masses. Will the sharks clean up with this deal or just get all lathered up?
Here's a preview video for Friday's show.
Episode 406 Follow Up Segment
The follow-up segment for episode 406 features Dallas Robinson and Mike Buonomo whose business,  Kisstixx, was funded by Mark Cuban in season three. The boys invented lip balm with complementary flavors that combine when you kiss!
Stay updated on the Shark Tank Blog Facebook Page!