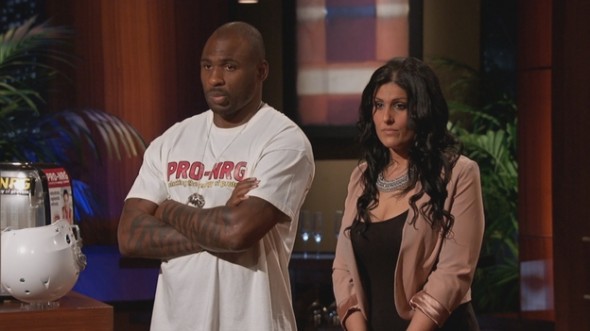 PRO NRG is a protein infused, flavored vitamin water that entrepreneur Tania Patruno calls "a steak in a bottle." She brought some high-powered help with her to pitch the Sharks on her fledgling business: New York Giants all time rushing touchdowns leader and Super Bowl champion Brandon Jacobs. Jacobs is a friend of Tania's husband and he wanted "IN" on PRO-NRG after he tried it for himself. Tania developed it for herself initially; she wanted a burst of energy while working out without the caffeine and sugars found in most energy supplements. Once she realized how well it worked, she started marketing it and made her way to the Shark Tank.
PRO NRG Shark Tank Recap
Jacobs shared a story about how he handed out the drinks in the locker room at halftime during the Super Bowl and Tania shared her sales figures: $126K in just three months. She came into the Tank looking for a $250k investment for a 15% of the company. She needs to finance PO's and wants national distribution.
Robert doesn't like the taste and doesn't have a lot of experience in the space; he's out. Kevin thinks the company is over valued and doesn't like the fact Tania's distributors are making more than her; he's out. Barbara thinks Tania's message is too confusing and thinks she needs to utilize Brandon more; she's out. Mark thinks PRO NRG will be the target of knock off artists, so he's out too. Daymond offers $250k for a 30% share, contingent on striking a deal with Badass Nutrition.
PRO NRG Update
Shortly after appearing on Shark Tank, Hurricane Sandy put a wrench in the works for the business. Tania and her husband, Eddy's home fell victim to the storm's devastation; they actually had a boat deposited in their yard! It was available in metro New York 7-11 stores prior to the show and Daymond is helping Tania roll it out nationally. They are also working on other national distribution deals.
In October, 2013, the company announced a product re-launch at a product launch party. They rebranded as "Protein Water by PRO-NRG.' Daymond John was at the event and he announced it is rolling out nationally at all Walgreens locations. The business is featured in an update segment in episode 502 in season 5. In the update, Daymond, Brandon, Tania and her husband are happily playing football and examining the new packaging. They wouldn't be smiling for long.
In July, 2014, a man by the name of Joshua Fenwick sued Eddie Dukhman (Tanya's husband), Tania Patruno,
Helen Korosh, Joseph Rasa, Brandon Jacobs, BRAYDEN ENTERPRISES, LLC, and SANTE PUR SOLUTIONS, LLC under the "federal Lanham Act and the common law for legal and equitable relief arising out the misappropriation of the products, trademarks and other assets of PRO-NRG." He alleged that the parties, particularly Eddie, forced him out of the company. The case was dismissed, but shortly thereafter, the business went dark. As of July, 2021, the website is a blank page. Tania is now working as a realtor at Weichert Realty in Metuchen, NJ.
Posts about PRO NRG on Shark Tank Blog
Protein Water by PRO-NRG Launch Party
Sports Drink pitched by Brandon Jacobs
Monday Night Football Meets Shark Tank
PRO-NRG Sports Drink After Pitching
Tania Patruno speaks out on Brandon Jacobs and her Future
Company Information