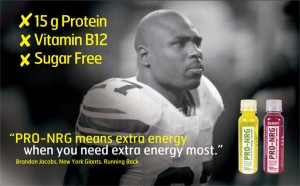 Brandon Jacobs endorsed entrepreneur Tania Patrunol's PRO-NRG sports drink. She came to the Shark Tank with $125K in sales looking for $250K for 15% of the company. PRO-NRG is unique in the sports drink space, but the Sharks thought it tasted "chemically."
The sharks were impressed with Brandon Jacob's story. He told everyone how he brought it to the Super Bowl, handed it out to his Giants teammates and then went on to a thrilling second half comeback victory. That's a compelling story for a sports drink/supplement. The panel was less than thrilled with PRO-NRG's numbers. The margins Tania was working with ensure her distributors make more on a bottle of PRO-NRG than she does!
Sharks Like football, but not the Sports Drink numbers
Even though the other sharks balked at the taste, Mark Cuban "got it," but he was the first one out. One by one, the sharks went out  until Daymnond offered $250K for 30% of the company. Daymond had conditions though. His offer was contingent on a partnership with Bad Ass, a protein supplement company he is partnered with. It seems like PRO-NRG, even with Brandon Jacobs on board (he's not an equity partner) could use a guy like Daymond who has the connections (think 7-11) to get this on the shelves all over the country.
Having Brandon Jacobs on board was important to Daymond too. Face it, Jacobs is a beast, and he's very popular with the New York Giants fan base. An athlete of this caliber is an integral part of selling a sports drink. It gives it credibility. That's why Daymond insisted Jacobs stays on board. I predicted Daymond would make a play for PRO-NRG because of the 7-11 connection touted on the PRO-NRG website. Jacobs agreed to stay on board, Tania took the offer with Daymond's conditions, and PRO-NRG became another business funded in the Shark Tan.
Asked for $250K for 15% of the business
Accepted $250K for 30% of the business
Investor: Daymond John