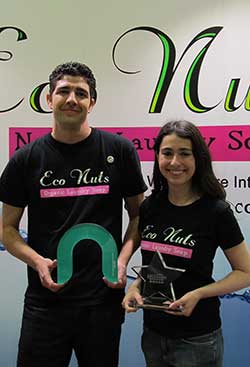 Did Mona Weiss really tell Robert Herjavec "You better be working 16 Hours a Day" right after he offered them $175,000 for fifty percent of Eco Nuts? Yes, she did…
Talk about a blunder, but that wasn't the first. Mona's business partner and fiance, Scott Weiss started the pitch, telling the Sharks how great the Eco Nuts company is performing. He said they sold $250,000 last year and controlled 90% of the market.
Regular Shark Tank viewers would see the writing on the wall, Kevin O'Leary would be out. A million dollar evaluation for a company that has cornered 90% of the market? I don't think so and he didn't either. Scott Weiss made a serious blunder, but didn't kill the deal, Mona had that part covered.
Right after, Daymond John pointed out that Scott doesn't know the numbers and for that reason he is out. Daymond hung on  Scott making the assumption their company is number one. He was out.
This where Mona insults Robert after making his offer. She literally told him, "You better be working 16 hours a day like we are." Mark Cuban rightly rolled his eyes after Mona demonstrated why most entrepreneurs blow investment opportunities.
You Better Be Working 16 Hours A Day
Robert's reaction was not what I thought it was, he was clearly not pleased after telling her he works twenty-fours hours a day to have the privilege to listen to entrepreneurs like her.
Mona, is not alone, I have made similar mistakes while pitching investors.
Right after, Scott engaged in an argument with Mark Cuban about packaging that neglected to tell about their sterilization process.
Barbara goes out too, but not before she asked why they aren't married yet. Kevin O'Leary jumped in and offered to marry them, he even begged them.
Both Mona and Scott left without money Eco Nuts should have had. In the end, they had a great attitude and presented themselves well in the post comments. They both screwed up, but it appears they didn't need the money that badly.
Scott and Mona made the same mistakes that many passionate entrepreneurs make when talking to investors.