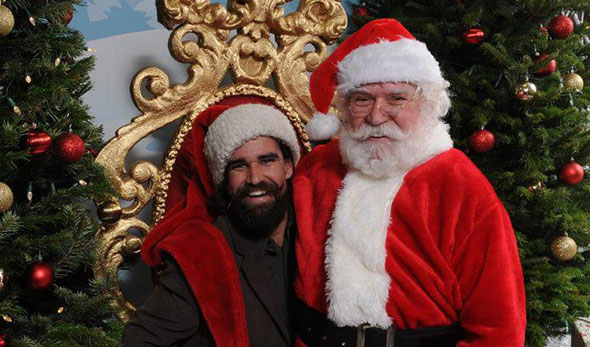 Scott "Scotty Claus" Martin made a deal with Mark Cuban on the Shark Tank Holiday special. Daymond John almost did a deal with Scotty Claus because he "always wanted to be in business with a guy with a handlebar mustache," but Mark Cuban got the honors. The Living Christmas Company pitch by Scotty Claus was the feel good story of the holiday episode: renting live Christmas trees appeals to those who like green businesses, hiring veterans appeals to patriots, and who doesn't like Christmas? Since airing twice in less than two weeks, Scotty Claus and his elves have been hard at work, but I managed to catch up with him and chat on the phone. He had some thoughtful insights on how to prepare for a Shark Tank appearance.
Scotty Claus' primary business is The Seed Group, a landscape architecture firm. He's been in the business since he was 15. "I started working at the nursery when I was 15 and by 17 I was doing landscape design. I got my Landscape Architecture degree at Cal Poly Pomona," he said. Scotty Claus has a charitable and community-minded heart; according to his Seed Group profile, "Scott volunteers as a Certified Mediator with Dispute Resolution Services of the LA County Bar Association and the Centinela Youth Services working with youths as an alternative to the Juvenile Courts. Scott is also proud to have served on the Board of Trustees for Environmental Charter High School for six years and continues to Chair a Facilities Subcommittee for the new campus." He truly keeps the spirit of giving alive throughout the year!
As expected, Website Traffic Skyrockets
I was a bit surprised I was able to speak to Scotty Claus at all, since it was only 5 days until Christmas. I figured he and his elves would be extremely busy! "Last week it would have been a very different conversation," he jokes, "this week, most people already have their trees, so I can take a breather and take care of my Christmas shopping."
While web traffic to the Living Christmas Company went through the roof on both show nights, the local nature of the business didn't lead to measurable sales results. "We got something like 50,000 hits in the 24 hours following the show. Most of the contact we got was people wishing us well, it created a challenge because our actual customers got kind of lost in the avalanche of email, but it worked out OK. People were moved to share their stories with us and offer their help. We were offered vehicles, land; people just wanted to reach out and help us. Locally, a lot more people became interested in us after the show, we became 'cool' because we were on Shark Tank."
The Living Christmas Company Pitch
Scotty Claus was onstage with the Sharks "somewhere from 20 minutes to a lifetime! The tension in the room is constantly palpable. At one point I remember thinking 'I don't want a deal, I just want to get out of here!' The Sharks are having a blast, they love what they do. Kevin O'Leary didn't try to dog me, he was actually really nice, but he kept staring down at me. He wasn't negative and he was nice when he went out. "
Some of the things left on the cutting room floor included Scotty's work with charities and some of his corporate partnership arrangements; for instance,  Scotty Claus leases land from Shell Oil at an old refinery site to grow his pine trees. There was also a whole discussion about higher pricing for the "one percenters."
"They edited it to make it look dramatic, but my whole pitch was like a group hug. We were all laughing most of the time. The best thing was the Sharks all understood my business. Even when a Shark went out, it wasn't because they didn't like or understand the business, it just wasn't enough for them. A lot of the Sharks were answering each other's questions. Mark didn't say much, but he took three pages of notes; he'd ask a question here and there, but that was about it."
Daymond was obsessed with handlebar mustaches, he said he really wanted to be in business with a woman who had a handlebar mustache! Scotty claims he's never met a woman with a handlebar mustache, but his might not be there for much longer. "I think once this Christmas season is over, it's coming off."
Scotty Claus on Working with Mark Cuban
"Mark has been super cool. Both he and his 'guys' have been super supportive. The due diligence was a bit of a nightmare. I have 7 partners in an LLC, they have small shares in the business, but I still needed to get everyone's signature on an original document. Of course everyone wants their lawyer to look at it, so it just took way longer to get done. Other than that, everything is great with him."
"Our plan is to grow the company organically here in Southern California. We don't make money off a tree until it's been rented several times, so Mark's $150K will allow us to cover operating costs and function better as a company. We don't want to go crazy, so we'll keep it local, but if the right opportunity comes up, nothing is off the table.  Basically, I am writing the business manual on renting trees, so we're learning what works along the way. We're not changing the core of our business, which I think is why he invested in us."
Strategy in the Tank
Scotty Claus had one of the most well thought out strategies for his pitch of any of the entrepreneurs I have interviewed for SharkTank Blog. "When I was first contemplating going on the show, I almost backed out. No single business is worth being discredited on national TV. When I decided to go for it, I decided I was going to stick at what I am the expert in, which is providing value from my business. Every time the conversation got into something I wasn't comfortable with, I brought it back to my area of expertise."
"I wasn't going to tread in financial waters, that's the Sharks' area of expertise. I'm an expert on renting trees. If I tried to talk financials, I'd be in trouble. Too many people get caught off guard when they step outside their area of expertise and they die in there. Or they get argumentative, forget about their business and get stuck on the criticism."
"I watched tapes of all the shows, I studied up on the Sharks and their lives away from Shark Tank. I wasn't specifically targeting any of the Sharks, that works against you I think, especially with Mark. People who try to play to him generally do poorly. He prefers an open, honest pitch and someone who answers questions. I think he was the best fit for my business."
"Overall, I couldn't have hoped for a nicer, gentler edit. It was cool to see a benefit based company do well. I didn't want an investor who has a different philosophy, I want to build it  with value and integrity. I think when you do it that way you live a richer life. I'm just glad we stuck to our guns and presented it well."
Parting Thoughts from Scotty Claus
Scotty Claus had a parting statement which summed up his Shark Tank pitch and his business Philosophy: "Stick to what you're an expert on, that's the reason you're an entrepreneur, because investors don't know everything."
I had one more question for Scotty Claus, he answers it on The Hot Dog Truck.