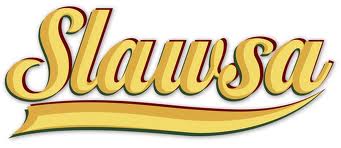 The Slawsa success story is an interesting one. Slawsa is a new condiment that hit store shelves in a big way over the past year. It's a combination of cole slaw, salsa, and mustard that's great on hot dogs, brats, sausages, burgers, even eggs! Once you try it, you'll think Slawsa is "Slawesome!"
This guest post was written by Julie Busha, Food Marketing Pro extraordinaire at Nicole Foods, the makers of America's hottest new condiment: Slawsa. If you are an entrepreneur with a food product you want to market, take my advice: look at what Julie has done with Slawsa in only one year with a limited marketing budget, and do what she did! Julie is a pro at getting attention for her brand, she just found out Every Day with Rachael Ray Magazine will feature Slawsa in a sandwich spread article in the March issue.
To me, Rob Merlino is the Hot Dog Man. I met him on my quest to introduce my brand, Slawsa, to all of the hotdog experts in the land, and yes, these people take their tubular meats very seriously. To my delightful surprise, I later came to find out that Mr. Merlino also co-ran The Shark Tank Blog. ABC's Shark Tank is a show that I have great admiration for as an entrepreneur, so it was an honor for him to ask if I would offer some advice for readers on food marketing.
Getting a new food product seems to be one of those ventures on the show that many entrepreneurs struggle with. Gaining retailer commitments is often a convoluted and frustrating process. Over the last year, I have been approached by dozens of start-up food company hopefuls asking me what my secret is. You see, by the end of my first year since launching Slawsa (aka, the condiment that will change your life) onto grocery store shelves, we found our way into over 3,500 retail locations nationwide…and the list grows.
The Slawsa Success "Secret"
I hate to admit, but there is no secret. The ugly truth is that if you think your product will get by on taste alone, you will surely fail. Attempting to launch a brand against the Goliaths of the industry with deep pockets is no easy feat. After all, they're fighting for the same shelf space as you and they already know what they're doing. I read somewhere that only 11% of small business food companies whose products are lucky enough to make it a major retailer shelf will have a successful launch to keep the brand there. You see, making the shelf is not the end game…that's only where the journey and hard work begins. So, are you ready to turn your food hobby into a food business?
If you're just starting out, you've got to familiarize yourself with the industry. Pricing strategy and margins vary by category. Options for means of production, freight and packaging, working with brokers, wholesale to distributors or direct retailer relationships, slotting and EDI systems are just a few things you better live, breathe and understand before you start. This is just an article, not a book, so instead of the details, I'd rather provide insight as to preparedness and the mindset you have to have if you're leaning toward taking that leap to launch a food brand.
"It's better to look ahead and prepare than to look back and regret." Jackie Joyner-Kersee
There are going to be start-up expenses that you risk not getting back in the long run. Are you okay with this and have you prepared for not only the financial investment but the time investment as well? The more you have done your research on the front end, the more you'll save in start-up expenses because you'll have made fewer mistakes. And let's not forget about the time commitment. I'm not talking just a few hours in the evenings and weekends but rather the likelihood of working 80 hours/week with no pay for years.
Start-up Resources
There are a great deal of resources that are free to you and your state's Department of Agriculture is the best one to start with. Likewise, if you qualify, please know that many of the major retailers have supplier diversity programs that encourage women, minorities and individuals with disabilities by providing a leg up in scheduling meetings, and for some the ability to avoid entry expenses that usually provide the barrier to entry for hopefuls.
Fast or Slow Growth?
If you're not able to take charge and dedicate the time and/or finances, you better find someone who will…and partner with them. Gone are the days of the "solo-preneur" and if you're not surrounding yourself with quality people as you grow, you'll never achieve success. Find people who have strengths that offset your weaknesses. There are two routes start-up food businesses can go…slow and steady or fast and furious. If you have an item that already has a lot of competition in a cluttered category, like a barbecue sauce, you likely need to take the slow growth strategy and build that core consumer base on your superior flavor over the competition since you probably won't be able to compete on price, at least initially.
If you have a food item that is so unique to the market, like we do with Slawsa, you have to be aggressive in growth so you can gain market share and not open the door for larger food manufacturers that will aim to knock you off. Being first to market is so important in creating value for your brand and brand name in the eyes of the consumer. Major food companies work very slowly so you may have 3-5 years before they can launch their competition to your product.
I think the best piece of advice I can give about preparation is what you present to your buyers. Many start-ups focus on flavor…whereas, in a buyer's eyes, it's probably the third most important factor in bringing aboard a new brand. In my opinion, the marketing program is the number one followed by price. Getting on the shelf only to sit there does not help the buyer in his/her quest to grow category sales and move up the ranks at corporate. You better bring an aggressive marketing program to the table.
That means for the first several years (yes, I said years), all of your profits are going to be reinvested back into your company with a smart marketing strategy. You've got to grow your customer base and the most successful entrepreneurs will have prepared themselves to forego any type of salary because of the necessary reinvestment back into growing the business. What? Did you think this would be easy?
"Mediocre expectations never breed success." Julie Busha
So many people "oooh and aaah" about how successful we have been out of the gate but I will be the first to tell you that in my mind, success is so far down the road, I can't even see it. Until Slawsa is the category leader with placement on every major retailer shelf, until Slawsa is in concessions at every major stadium, until Slawsa is on every hot dog cart in the country, then and only then will I deem our brand a success. And when that happens, I'll probably redefine success to go a bit further. In my opinion, you've got to see your future and know where you want to take it to keep that fire alive and make every day's efforts your best.
Be Aggressive and WORK HARD
In this industry, you have to be aggressive. Aggressive on sales, public relations, and in your marketing program. Every day is a day to pitch media and if you say you don't know how, I ask why you can't pick up a phone or craft an email? Anyone can pitch media. When I speak to a buyer and I get a "no thanks," in my mind, I only hear these words: "We are very interested but can't commit just yet due to timing. Please keep me posted on a quarterly basis on your growth and success."
In terms of mass consumer sampling events where we get a big bang for our buck, with a little charm, I convince just about everyone to give Slawsa a try. The battle is harder for a brand like ours because Slawsa is so different from anything on the market and most people don't know what to make of it. I'll pitch, pitch, and pitch for days on end until I can no longer speak. After a quick 10-minute break to regain a scratchy voice, I'm right back at it. If you're not willing to stand on your feet for 12-hour sampling days or go that extra mile to touch every person you can, you're in the wrong business. Passion is infectious and customers are buying just as much into a passionate small business owner and your story as they are your brand. You never know if that next person you meet might open another door for you so make every pitch your best.
I think many newbies to the industry forget the fact that you can, and should, negotiate. While you should with retailers and distributors, negotiation is most instrumental in your marketing program. I find myself entertaining a lot of proposals and am open to at least listening to every opportunity presented so I can make educated decisions. Every penny counts and the more you save, the more you can set aside for marketing. I am extremely clear about my expectations and obtaining a return on investment for every program we participate in.
It's funny how many people will pitch a sponsorship of some sort, but when you set the bar in terms of your needs to make the relationship mutually beneficial, sometimes you never hear from them again. It's as if they knew they couldn't deliver. Base your marketing decisions on case studies with hard numbers and always look for a guarantee. You may not get that guarantee every time, but your risks can be minimized when you've made educated decisions based on numbers and history.
Taking the leap to become an entrepreneur in the food industry is a decision that should not be entered without serious consideration and understanding of the food business. At the same time, I cannot tell you how rewarding it is to feel like you have "birthed" a product from a dream, knowing your efforts have made an impact on the lives of others. It is easily the most rewarding experience I have had professionally and wouldn't change my life for the world. There are so many unique, wonderful and "potentially great" brands out there that may never make it to the market because they lack the entire effort. So the last question remains, "Are you prepared?"
Named by Entrepreneur.com as a top-10 in the food/beverage category for their prestigious 2012 holiday gift guide and raved about by food critics across America (including The Hotdogman), Slawsa can be found (primarily in the relish section) at these stores: http://www.slawsa.com/Store-Finder.html , followed on twitter: @slawsa, liked on facebook: https://www.facebook.com/Slawsa or pinned on Pinterest http://pinterest.com/source/slawsa.com/ Join our revolutionary brand, #BanBoringCondiments and #SupportSmallBiz.
Julie Busha's twitter is @julesbusha