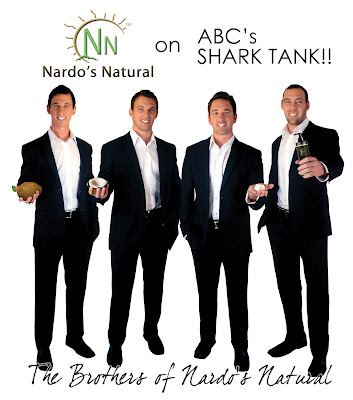 Nardo's Natural is a line of organic skin care products funded on the Shark Tank by Barbara Corcoran in season three. The four Mastronardo brothers started making their all natural products in their kitchen and have turned it into a booming business.
I visited their offices to speak with Kyle (he's the one on the right), the company spokesman.
The video is the last in a series of four. I spoke with him at great length to get his insights on his Shark Tank appearance. Their show re-runs Saturday, May 5.
The final installment of the Kyle Nardo interviews features his take on Barbara Corcoran. He talks about when she said she hated their name. It really got to Kyle and his brothers, but wait until you hear what Barbara says about the exchange- you will change your opinion of her for sure.
Nardo's Natural shares some similarities with another Barbara Corcoran funded business. Kyle elaborates on this little bit of foreshadowing and on Barbara's silence for several months after taping. The boys were being tested- find out if they passed!
Negotiations got very heated in the Shark Tank when the boys were on stage. They stayed composed, but Kyle was privately a bit lathered up. Kyle takes another poke at Kevin O'Leary; wait until you hear what he says about him today!
He also talks about how Barbara helped Nardo's Natural as a business person and mentor. He respects Barbara and the PR power of the Shark Tank and is eager to take their brand to the next level.  Clearly all the Mastronardo boys understand and appreciate the power of the Shark Tank and plan on using it to their advantage.
Thank you Kyle, for a great behind the scenes look at the Shark Tank. Watch the Nardos on Shark Tank Saturday, May 5.
CLICK HERE TO BUY NARDO'S NATURAL PRODUCTS
View part one , part two and part three. Watch me and the  boys getting Detroit Coney Dogs.