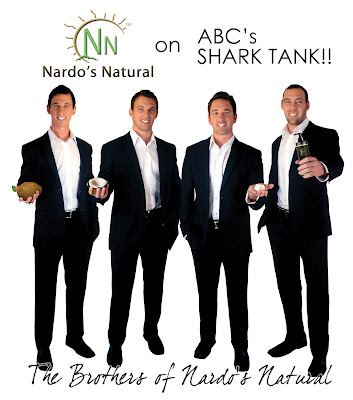 Nardo's Natural is a line of organic skin care products funded on the Shark Tank by Barbara Corcoran in season three. The four Mastronardo brothers started making their all natural products in their kitchen and have turned it into a booming business.
I visited their offices to speak with Kyle (he's the one on the right), the company spokesman.
The video is the second in a series of four. I spoke with Kyle at great length to get his insights on his Shark Tank appearance.
In this segment, I ask Kyle about his and his brothers' love lives. Being on Shark Tank has brought a lot of attention to the four Matronardo brothers, and they are enjoying the experience. Despite some outrageous behavior by people applying for jobs at Nardo's Naturals, Kyle is enjoying his new-found fame- while it lasts. He's smart enough to know it won't, but he figures he'll enjoy the ride.
I wanted to get his opinion on past Shark Tank entrepreneurs. Kyle had some interesting insights as to what and who influenced him. There is a little community of Shark Tank entrepreneurs and the Nardo's Natural brothers are a big part of it. Some very real friendships have resulted from connections made through the show.
Kyle also weighs in on his favorite Shark Tank products and his favorite pitch. I wasn't too surprised at his answer- a lot of the entrepreneurs have answered the same way!
Obviously, Barbara Corcoran is the boys' favorite Shark, but I wanted to know who Kyle liked other than Barbara. He gave an interesting answer, and it took me by surprise; not for who it was, but for the reasoning behind the answer. I'll give you a hint- it wasn't Mr. Wonderful!
CLICK HERE TO BUY NARDO'S NATURAL PRODUCTS
Enjoy part two of my interview with Kyle. The video is below. Enjoy. View part one.