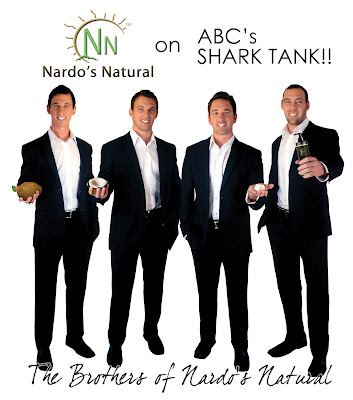 Nardo's Natural is a line of organic skin care products funded on the Shark Tank by Barbara Corcoran in season three. The four Mastronardo brothers started making their all natural products in their kitchen and have turned it into a booming business.
I visited their offices to speak with Kyle (he's the one on the right), the company spokesman.
The video is the third in a series of four. I spoke with Kyle at great length to get his insights on his Shark Tank appearance.
Today, Kyle talks about preparing for appearing on The Shark Tank and what he and his brothers were thinking about before they filmed. He provides some insight into the process of being picked as well.
Kyle describes the budding community of Shark Tank entrepreneurs and how the Nardo's Naturals boys befriended a fellow entrepreneur, The Smart Baker's Daniel and Stephanie Rensing.
The question of what type of businesses are most appropriate for Shark Tank came up and Kyle shares his view on what makes a good pitch for the show. He also answers whether he felt the show's editing was fair to the Nardo brothers. What we saw on TV was definitely different than what really went down.
Nardo's Natural is one of my favorite segments this season, because their pitch features one of the snarkiest Kevin O'Leary comments ever. The boys had presented a thank you letter from President and Mrs. Obama. O'Leary mocked both Barbara Corcoran and the letter after Barbara agreed to fund the boys. He held up the letter and said, "Dear Barbara, you're an idiot!" Kyle has a few things to say about that! I even asked him what he thought of Kevin O'Leary- he answers like a true Philly native.
CLICK HERE TO BUY NARDO'S NATURAL PRODUCTS
Enjoy part three of my interview with Kyle. The video is below. Enjoy. View part one and part two.