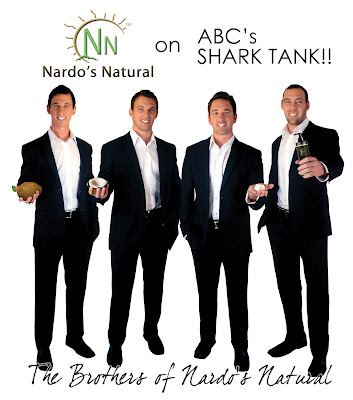 Nardo's Natural is a line of organic skin care products funded on the Shark Tank by Barbara Corcoran in season three. The four Mastronardo brothers started making their all natural products in their kitchen and have turned it into a booming business.
I visited their offices to speak with Kyle (he's the one on the right), the company spokesman.
The video is the first in a series of four. I spoke with Kyle at great length to get his insights on his Shark Tank appearance.
In part one, Kyle speaks about what happened to the Nardo's Natural website on the night of the show. While their site didn't crash, their credit card transaction processing was shut down by the processor. There were so many transactions in such a short period of time, fraud protection security metrics shut them down.
Kyle also has strong feelings about keeping Nardo's Natural local. All their products and packaging are made right in the Tampa/St. Petersburg area. Kyle and his brothers feel a sense of responsibility to their community. While they were pretty silly when we went out to lunch at a local hot dog joint, all three of the boys I met were very responsible and business-like in the office. It's refreshing to see young entrepreneurs having such a big impact.
Kyle, a big baseball and Tampa Bay Rays fan, was excited about a new celebrity endorsement Nardo's Natural had recently arranged. Tampa Bay Rays two-time All Star pitcher, David Price, has signed on with the boys to help promote their new Muscle Rub. While I was happy for the boys, I wasn't too pleased with the way he shut out my Red Sox on the day of the interview! The boys plan on the Nardo's Natural Muscle Rub becoming a mass marketed product with distribution in major retail chains.
Kyle elaborates on all these points in the video interview.