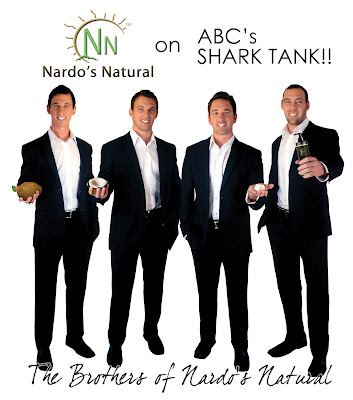 Nardo's Natural, the organic skin care line produced by the four Mastronardo brothers in Clearwater, Florida was funded by Barbara Corcoran on the Shark Tank earlier this season. I spent half a day with Kyle, Danny and KJ Mastronardo. We went for hot dogs and I talked at length with Kyle on a variety of subjects.
In the coming days, I will be posting segments of the in-depth video interview. Kyle spoke at length about Barbara Corcoran and the influence she has had on Nardo's Natural as a business and on the boys themselves. Barbara does lots of things different from the other sharks; perhaps this is why the businesses she funds have so much success. The Mastronardo boys have the utmost respect and admiration for Barbara Corcoran and, judging from what they told me, the feeling seems to be mutual.
Kyle also gave me a lot of insight into the processes each individual  entrepreneur goes through, before, during and after the show tapes and airs. What people see on television is barely the tip of the iceberg in the Shark tank entrepreneurial process.
Another tid bit I garnered from Kyle is the emerging subculture of Shark Tank entrepreneurs. Many of the people who have appeared on the show stay in contact with each other. There are many who don't belong to this impromptu "club," but the fact the entrepreneurs are sharing information and helping each other shows the nature of the individuals behind each business featured on the show.
I have interviewed many Shark Tank entrepreneurs for the Shark Tank blog, but the interview with Kyle of Nardo's Natural was the first "in person" interview and the first that will appear on video. I hope to do many more video interviews in the future, using Skype or Google plus or even in person when possible. Each day, beginning  Monday, I will post a segment of my interview with Kyle. Their show repeats this coming Saturday.
Keep reading the Shark Tank Blog for this interview series and other surprises.
CLICK HERE TO BUY NARDO'S NATURAL PRODUCTS
If you'd like to see the video of our trip to Luke's Coney Island Hot Dogs, you can check it out on Hot Dog Stories.