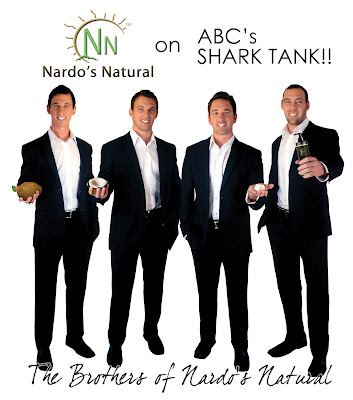 Four brothers from the Tampa area will be jumping in The Shark Tank on Friday night. The Mastronardo boys, who own Nardo's Naturals, hope to get one of the sharks to invest in their line of organic, all natural skin care products.  It seems a bit strange (to me anyways) to have four guys representing an organic skin care line, let alone making the stuff themselves, but they seem to have a good thing going.
The idea for the company came about when Kyle burned his hand while doing a better health cooking show. He noticed the natural healing effects of the oils he was working with while cooking and called on his brothers to whip up some natural skin care products. The entrepreneurs soon had a complete line of all natural skin care products that cater to folks who want only natural products on their skin. Many "mainstream" skin care products contain toxic chemicals (even lead) that you probably don't want to put on your body; these kinds of products can actually harm your skin in the long run.
Nardo's is committed to keeping it real. All of their products, which range from lotions to lip balm to bug spray to pet wash (even Fido wants healthy skin), contain 100% naturally available ingredients. They are also very proud of their green packaging. The guys make every effort to minimize the impact of their packaging by using recycled cardboard and soy based inks; they even hand apply labels to some of their products.
They are also devoted to keeping their business locally sourced.  They employ local Tampa area people, ship everything from a Tampa fulfillment house near their offices, manufacture in the area, and they get involved with lots of community endeavors too. They seem to be a good bunch of guys with a good product, conducting their business responsibly and as an asset to their community. The ladies will think they're "hunky" too; they even have what appears to be a pretty beefcake-centric 2012 calendar.
This isn't 4 guys brewing up potions in the garage, it's a serious business. Natural, organic beauty products did over $9 Billion in US sales last year; that's a number that will get the Sharks' attention. Nardo's Natural is available on their website, and at some Tampa area spas and wellness centers. My guess is they'll be looking for one of the sharks to take them to the next level.
I found this video on their Facebook page, it's a clip of a commercial for the Shark Tank but it wasn't able to be embedded. In the clip, it appears Barbara Corcoran makes an offer.  In another clip from a local TV news report, they show some banter between Mark Cuban and the boys that insinuates he has made them some kind of offer as well. The video of that report is embedded below. Based on what I have seen in the two clips, and based on the fact that the guys seem to have the whole system in order with a robust e-commerce site and a good PR scheme, I am predicting they make a deal on Friday. Good luck guys!