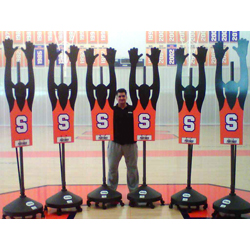 On Friday night, the creator of The Original Profender will be the first entrepreneur to try to slam dunk into The Shark Tank. What is the Profender? It's a basketball training tool. Inventor Tony Devine came up with the idea for The Profender while trying to find a basketball training tool for his son. After searching high and low, he couldn't find what he was looking for, so he invented one of his own.
The Original Profender is a cut out of a basketball player with raised arms. It is mounted on a platform with casters so it can be moved by the coach while the player practices shooting. A lever raises and lowers The Profender up and down to simulate a real defender. The player is forced to shoot over the raised hands which simulates a game situation in practice. The device is rugged and built to last the abuse a bunch of basketball players heap on it, yet it only takes a half inch wrench to put it together. It comes in three sizes: youth, high school and college/pro. The cost is $500.
The Original Profender has a lot of endorsements from college coaches and NBA players and it is being used by at least 15 big time college basketball programs. It appears to be a very useful training tool.
Will Mark Cuban Bite on The Original Profender?
I immediately thought of Mark Cuban when I saw this product on the docket for this week's show. Since he owns an NBA team, it would seem like a natural fit. Licensing could enter into this discussion too; imagine Profenders decked out with an NBA Team logo. But just because he owns the Mavericks, doesn't mean he will be interested.
I think the Sharks pass on The Original Profender, even though it appears to be an excellent product and basketball training tool. They will probably say the market is too small and the price point is too high. Not that it isn't worth $500, it's just not the type of thing they could sell millions of. My prediction is NO DEAL.
Here's inventor Tony Devine's Shark Tank audition video: