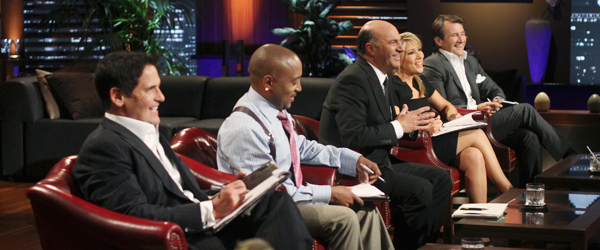 How do I get on Shark Tank? It's a question I get asked a lot. There are many small business people, inventors, and entrepreneurs who ask me this question either in person, on the phone, or via email. Even though I have never applied to be on the show (think the Sharks would fund this blog?), I have spoken to many of the entrepreneurs who have appeared and I have gotten a lot of inside info.
I just got an email from a reader this morning and "How Do I Get On Shark Tank" was in the subject bar. I directed the person to our Shark Tank Audition Page, but I felt I could elaborate on the subject further.
One note of caution, don't believe for a minute that you can get funded by the sharks outside of the Shark Tank. All the sharks are not in the business of funding start-ups. While Mark Cuban gets involved as a venture capitalist on other ventures sometimes, he's not taking an active role in the business- he is leveraging his money. Lori Greiner gets involved with start-ups sometimes too, but she only deals with people in her expanded network of contacts. Daymond has shown some signs of being an entrepreneurial evangelist of sorts with his involvement in Edison Nation as well. The real reason the sharks fund start-ups on the show because that is what the show is all about. It's a part-time job. They won't respond to random solicitations.
So let's get to the real question: How Do I Get on Shark Tank? First of all, you must apply. You send an email to the producers with the information they require or you can fill out the Shark Tank application form. There are also open casting calls. Information on casting calls are on the Shark Tank Audition Page.
Once the application is filled out, you need to wait. The producers and their team go through the applications and, if they like your idea, they may invite you to submit an audition video. If you are accepted, you will be invited to tape in LA. Once there, you will be sequestered in a hotel room and allowed no contact with other entrepreneurs. You enter the Shark Tank and none of the Sharks know anything about you or your business, you must explain yourself and sell yourself to the sharks. A lot of what is taped will not be shown and they will edit your segment to make "good TV." Even if you tape a segment, there is no guarantee it will air. Most of the entrepreneurs find out just a few weeks in advance when their segment will air. A total of 80 businesses were taped for season three, only 58 will air.
If you are lucky enough to be invited to LA, there are things you can do to prepare yourself. Now the question changes from "how do I get on Shark Tank" to "how do I get funded on Shark Tank!" First of all, you should make sure your business is in good order. Have all the proper registrations, permits, licenses, or anything else you need to legally conduct a business in the state you live in. If you have a product, file for a patent. You don't necessarily need a lawyer, there are many online patent services that will file everything for you. Whatever you do, have that patent paperwork in order!
Practice your pitch. Time and time again, the sharks have said they look at the person running the business as much as the business itself, so appear hard-working and confident. Know your numbers, anticipate questions and be prepared! Some entrepreneurs have told me they went onstage and just  "winged it," while others were very prepared, right down to their body language.
You should also make sure your website is prepared for an onslaught of traffic. When 7 million people see you on TV, there will be many who go looking for you online. Tell the world about your appearance. The more pre-show buzz you generate, the more likely you will be able to capitalize on the free PR.
Finally, talk to other entrepreneurs who have appeared on the show. Every single entrepreneur I have spoken to has gotten advice of some sort from other people who have appeared on the show.
So if you are still wondering, "How do I get on Shark Tank," ask a question in the comments and we will try to answer it. We don't work for the show, but we will direct you to the proper resources and even put you in touch with past entrepreneurs who agree to be contacted.