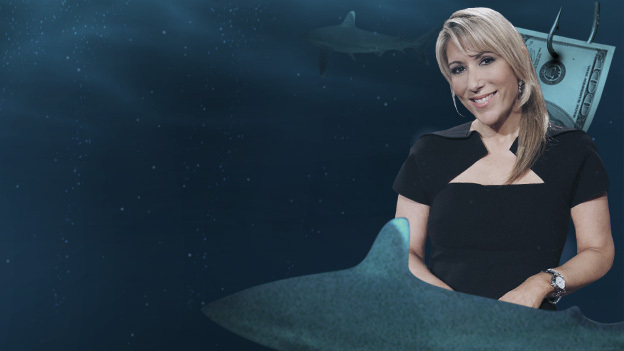 Lori Greiner became a "substitute shark" on The Shark Tank in season three. Last week, Lori's debut episode re-ran on ABC. Over the next few Fridays, episodes featuring Lori Greiner will be re-run.
She has proven to be a very popular shark on the Shark Tank. This website saw the second largest amount of visitors ever on June 22, second only to the episode when Lori funded NailPak. That was right after my interview with Lori Greiner.
I don't think it's a coincidence that our website traffic goes up during an appearance by Lori Greiner on Shark Tank. Women love her- she's an awesome role model for female entrepreneurs and she promotes products women love to buy. Men like her too; if you're a guy who likes smart, independent women (not to mention rich and beautiful), then Lori fits the bill to a tee.
When I spoke to her, she was very kind; she definitely has a soft, feminine side. When she's knee-deep in negotiations on the Shark Tank, a little bit of the Chicago city girl comes out. She can be tender, tough, and tenacious.
One of the reasons Lori Greiner has found success as a shark is she's been a "behind the scenes shark" for years. She told me being on Shark Tank is "a natural extension of what I [already] do." Lori's introduced over 350 products on QVC over the years- more than half of them are products she helped others develop. She claims she knows instantly if a product is a winner or a loser; if Lori thinks it's a winner, she'll give 110% to get it sold.
Time and time again, entrepreneurs who have worked with Lori tell me about how helpful and accessible she is. They also say she's a busy lady. Lori has that relentless drive to succeed and that's what makes her a good shark.
Speaking of Shark Tank, the show begins taping later this week. As I write this, some entrepreneur is practicing pitching their business idea to the sharks out in LA (and I don't mean Lower Alabama). Here's the exciting news for Lori Greiner fans: she dropped me a line and told me she'll be a FULL TIME SHARK in season four. With 22 episodes on the docket, that means a whole lotta Lori!
This begs other questions. Who will be supplanted on the panel? Will someone leave or will other sharks go "part-time?" Will Barbara and Lori be on the panel at the same time? I like all the current sharks, so I would hate to see someone leave. As soon as I find out, I will surely let Shark Tank fans know