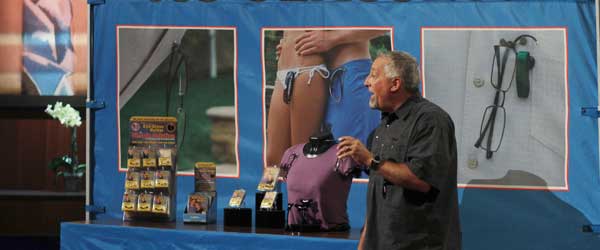 Rick Hopper, founder of Specsecure by ReadeREST is the brainchild inventor that connected with Lori Greiner. He's been tinkering with one thing or another since he was a kid. His latest invention is one of the big success stories on The Shark Tank this season. I rarely scream at the TV, but when my favorite shark, Lori Greiner looked him in the eye and said "I'll make you a millionaire," I was on my feet shouting "TAKE IT!"
Specsecure by Readerest is a clip that attaches to clothing with a high powered magnet and it works like a charm. As a guy who has dropped and broken sunglasses that cost more than my first car, I can appreciate the Readerest. Lori Greiner is the Shark best suited for this kind of product. The ReadeRest has that "as seen on TV" price point and presentation appeal. To my knowledge, Mr. Hopper is the first Shark Tank entrepreneur to fall down on the set: he did it intentionally to demonstrate the power of his product. It's a good thing he did too, Lori told him she "knew he had a winner" right then and there.
Rick Hopper and ReadeRest are the subject of tonight's follow up segment on The Shark Tank. His show only aired a few weeks ago, but the Readerest has been such a success, the producers were compelled to air an update. To date, Rick has sold over $1.4 million dollars worth of his Readerest. Over $100,000 worth was sold in the first 5 minutes of his first QVC appearance. Rick and Lori are projecting over $6 million in sales for 2012.  With around 126 million eye glass wearers in the USA, the market is HUGE.
Shark Tank success stories are always interesting to watch. The fact that Rick, Lori,  and Readerest have taken the Specsecure to over a million dollars in sales in such a short time shows the power of the Shark Tank and the power of a great idea.
Watch the Shark Tank tonight on ABC.