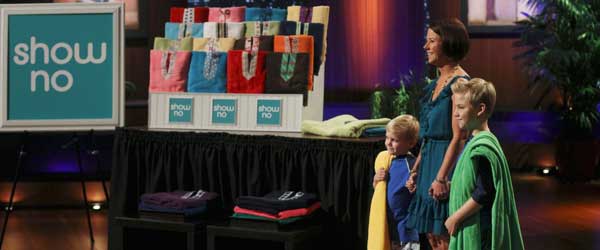 ShowNo founder, Shelly Ehler very graciously sent a ShowNo Towel to my home for my 7 year old. Little Miss is on a swim team for most of the year, so this ShowNo will see a lot of duty. The ShowNo Towel and Shelly Ehler return to the Shark Tank this Saturday night on ABC for an encore performance.
My favorite Shark, Lori Greiner, made her Shark Tank debut in this episode and immediately made a big splash by writing Shelly a check on the spot. Since the episode aired, the ShowNo Towel has been featured on the View, and the Today Show. Lori Greiner sold Shelly with her checkbook AND her "girl power" pitch, but Shelly could have made a deal with any of the Sharks.
Shelly's main pitch was to target water parks. I think this makes a lot of sense. She can develop a niche market for the ShowNo Towel while she gets her manufacturing in line. My family is a swimming family. My wife coaches three swim teams and one daughter swims, coaches and is a life guard. Little Miss is on a swim team too. I spend many weekends inhaling chlorine vapor and many nights listening to my wife break down stroke techniques.
Shelly should get the ShowNo Towel out to the swimming market. It's another niche that is small enough to effectively market to yet big enough to turn a profit. During our interview earlier this week, she confessed to chasing this market- that's just smart business.
I know one thing for sure, the ShowNo Towel that now resides in Little Miss' swim bag will get lots of buzz on the pool deck. She will most likely be the only kid on the team to have one. It is going to be interesting to see how many questions I will have to field about it. As the head coach's husband, I field a lot of questions.
As usual, when I get some swag, I shoot a little video. I shot this one with my new Kodak Video Camera.