Show No Towels made Shark Tank history when Lori Greiner wrote entrepreneur Shelly Ehler a check on the spot when the show originally aired. Friday night, May 4, "Show No Shelly" returns to the Shark Tank as a featured entrepreneur in a follow up segment.
Shelly was the first Shark Tank entrepreneur I interviewed for this site and she is one motivated lady. After talking with her for five minutes, I could see why Lori invested in her and Show No Towels. Her original plan was to sell into water parks. She thought she could create branded Show No Towels to sell in the gift shops and I know for a fact she's been hard at work doing just that. She is motivated by making her business a success, but she also confessed that she really wants to prove Robert Herjavec wrong. Robert liked Shelly, but not the product.
For the past few weeks, Shelly has been sending me cryptic Tweets about a "big surprise" in her follow up segment. She's not letting on as to exactly what it is, but Lori Greiner told me at the end of the segment "it's like when the bus pulls away at the end of Extreme Makeover."  Sounds like a happy ending to me.
I have a lot to thank Shelly for. I think she worked behind the scenes to get me an interview with Lori Greiner. She was kind enough to send me and my daughter each a Show No Towel; they were a big hit at the beach in Florida. I found it to be a cool beach "shirt" too. I thought it was extra special that I got the same Show No Towel Shelly gave to each of the Sharks- only six of these exist!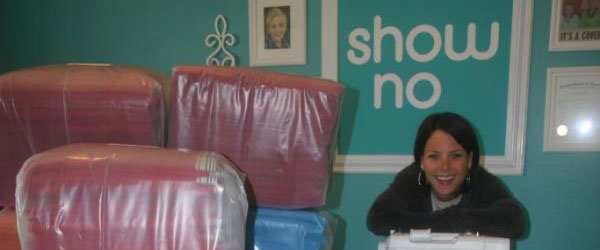 Shelly also donated a Show No Towel as a prize for one of our weekly Shark Tank merchandise giveaway contests. I am genuinely happy for her success- I can't wait to see what happens.