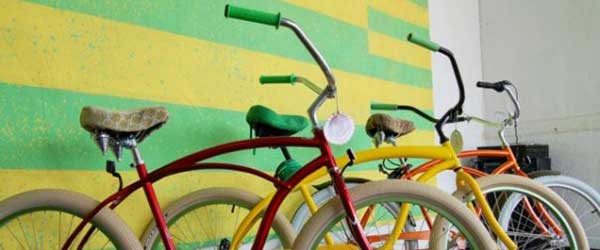 Villy Customs allows consumers to custom design a bicycle online. Biking enthusiast and serial entrepreneur Fleetwood Hicks brings his custom bike business into the Shark Tank Friday, May 4.
Villy Customs morphed out of Fleetwood Hicks' brick and mortar bike shop in Dallas. He originally sold stock bikes, but over the years, he began adding custom features like painted bike chains and colored fenders. The custom beach cruisers were selling well, so Hicks started making the entire bike from scratch in his shop. He named the business after his dog, DeVille (Villy for short). You can go to the Villy Custom website and customize your bike anyway you want, then buy it. They even sell gift cards, so it's easy to give a Villy Custom bike as a gift.
Bikes are a big business and they have been a big part of my life. When I was a kid, my idea of fun was to go to the local dump, find old bikes, bring them home and fix them up. My friends and I built some wild custom bikes back in the day, so this concept really appeals to me. Villy Customs bikes are a bit more expensive than the standard stuff found in most bike shops, but far less expensive than very high-end bikes. I went on their website and designed a few bikes, most came in around $500-$600. That's not too expensive, certainly not in the range of my dad's fancy racing bike which cost north of $4K!
I like the concept here and I think The Sharks will too. Villy Customs uses the same type of direct to consumer model that Stand Up Paddle Board entrepreneur Stephan Aarstol uses for his Tower Paddle Boards company which was funded by Mark Cuban earlier this season. The website is fun too- it's designed by the same folks who designed Porsche's website. I would be willing to bet they get server crushing traffic on show night; I hope they have bulked up their server capacity!
I like biking, I like customized bikes and I like Villy Customs. I am "IN."