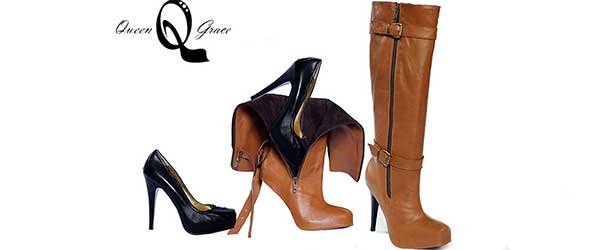 Boot Illusions is the brainchild of Queenie Davis and Andrew Goodrum. The pair brings their innovative shoe accessories that can turn any shoe into a boot into the Shark Tank this Friday night, May 4.  Will the Sharks bite on the Rochester, NY based business and their interchangeable footwear?
As with any apparel related business, the obvious target Shark would be Daymond John, but Daymond hasn't been too keen on apparel related businesses in recent weeks. He's been saying things like "it's too soon," lately, which leads me to believe he may be looking to other businesses besides clothing in the Shark Tank.
I did a little exploring to find Queen Grace Shoes, the online home of Boot Illusions and what I found doesn't add up to a successful funding on the Shark Tank. They don't sell Boot Illusions or any of their other footwear online- only in retail shops. When I clicked for a list of retailers that carry Boot Illusions, I came to a blank page. The website itself is fairly simple too. I find it hard to fathom why a shoe business wouldn't have some sort of online shopping cart installed. After all, shoes are in the top 20 of Google's search queries on a regular basis. Online shoe sales are big business!
I have learned that a less than spectacular website for a business before they air on Shark Tank doesn't necessarily mean a business doesn't get funded. Sometimes, as in the case of Litter Jewelry and GoGoGear, the website gets revamped and re-launched the night before the show. Whether this is the case for Boot Illusions remains to be seen. Companies with stellar websites don't always get funded either. The problem with a less than informative website for a business is I can't get a real bead on them!
I'm not sure what to predict for Boot Illusions, because I don't know enough about them. I know Kevin O'Leary will be "out," he hates retail. As for the other sharks, we will have to wait and see.
****I wrote this on Monday. As of Thursday evening, the Boot Illusions website has been revamped and there is an announcement that the products will be available online next month. Interesting……