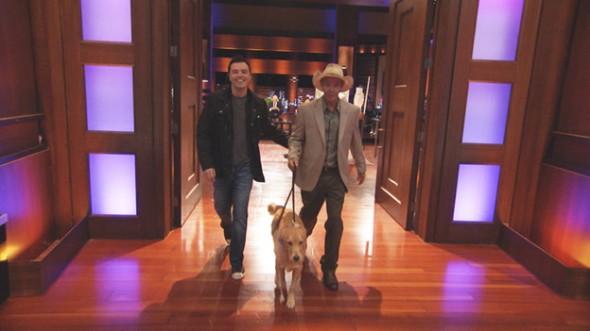 No Fly Cone came into the Shark Tank with a lot of hype in episode 410. The hype wasn't so much for the business itself, but rather the celebrity "guest pitcher" who joined entrepreneur Bruce Gaither in the Shark Tank: Seth MacFarlane. The product is basically a conical adhesive fly trap. The cone shape keeps the unsightly flies trapped in the glue out of sight on the interior of the cone. Gaither developed it during his years around horse barns – a very fly infested environment. MacFarlane takes riding lessons from Gaither, so he agreed to help with the presentation to the Sharks.
No Fly Cone Shark Tank Recap
Gaither entered the Shark Tank seeking $25k for 15% of his business. He had his dog, Biscuit, with him to demonstrate how dog poop attracts flies. He also showed the Sharks a "loaded" trap with hundreds of flies stuck to the cone's interior. The most anticipated part of this pitch was when Seth MacFarlane casually ambled onto the set. MacFarlane made a good crack at Mark Cuban by joking about losing money on Landmark Theaters' stock in Family Guy "Stewie's" voice, but then failed to add any value whatsoever to the pitch.
Mr. Wonderful goes out almost immediately and MacFarlane, again in "Stewie's" voice, said he was "not a nice man." Mark, still steaming about the Landmark Theater joke, goes out too. Daymond quickly follows. Lori likes the idea and the product but she finds it personally disgusting; she's out too. Robert likes Family Guy, but not the investment opportunity; he is the last Shark out.
No Fly Cone Shark Tank Update
No Fly Cone didn't get a deal with the Sharks and it appears they haven't made the most of the Shark Tank Effect. No Fly Cone continues to do business. They are available online on the company website and at ACE Hardware stores all over the USA (check your local ACE for availability). MacFarlane went on to host the Oscars on ABC in March 2013.
In 2016, the website went dark and they stopped posting on social media. Out of business.
Posts About No Fly Cone on Shark Tank Blog
Fly Trap Nets Celebrity Endorsement
Seth MacFarlane Flops on No Fly Cone
Company Information