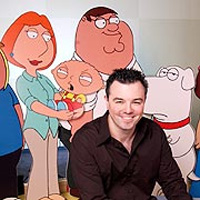 Seth MacFarlane's appearance in episode 410 was the most hyped Shark Tank ever. MacFarlane is the creator and comic "genius" behind the popular show Family Guy and is hosting this year's Academy Awards on ABC. In a sweeps month promotional blitz, ABC hyped Seth MacFarlane on Shark Tank to the point of over-saturation. Episode 410 introduced Shark Tank to the new 9 PM time slot, and ABC wanted a compelling show.
They got it
Episode 410 was the most watched Shark Tank ever (it seems we read that every week as the show gains more viewers and fans). Last Friday, Shark Tank featured just about everything that makes people love the show: a heartfelt, tear-jerker of a pitch from a momtrepreneur inventor with an excellent product and a lack of business acumen; a train wreck of a pitch from a young entrepreneur with a fantastic product that already had a million dollars in sales who was most likely there for publicity; and a celebrity endorsed fly trap from the aforementioned Seth MacFarlane. Sprinkle in a wildly successful follow-up segment and you have a ratings bonanza.
There was a problem though. Seth MacFarlane added no value to his friend's pitch for the No Fly Cone. He seemed completely unprepared to speak about it and he confessed to not ever trying it in his own home. MacFarlane was more concerned with joking about not telling the Sharks where he lives. Even if he never uses the No Fly Cone, you would think entrepreneur Bruce Gaither would have had the foresight to instruct MacFarlane to at least LIE and say "I use it all the time, IT'S FANTASTIC!" Isn't that what a celebrity endorser does: endorse the product?
Seth MacFarlane Bombs on Shark Tank
There was one other problem, Seth MacFarlane wasn't that funny. After opening with "Stewie" good-naturedly goofing on Mark Cuban about an investment in Landmark Theaters gone bad, Seth MacFarlane came across like an unprepared, rookie stand-up comic thrust upon the stage at the last-minute. He just wasn't that funny. Quips like "this is such a warm, inviting place," while accurately sarcastic, could be uttered by just about anyone with equal comic effects.
I am not saying Seth MacFarlane should hang up his comedy chops. I thought he was hysterical on Saturday Night Live and "Stewie" slays me. In the Shark Tank, he was a comic minnow. My measure of whether something is funny is simple; if I laugh, it's funny. Seth MacFarlane didn't make me laugh Friday (other than the "Stewie" remark).
We will undoubtedly be subject to a repeat of this episode leading into the Academy Awards show next year. It's all part of the hype. I get that. Some advice to Seth MacFarlane on hosting the awards show: BE FUNNIER.