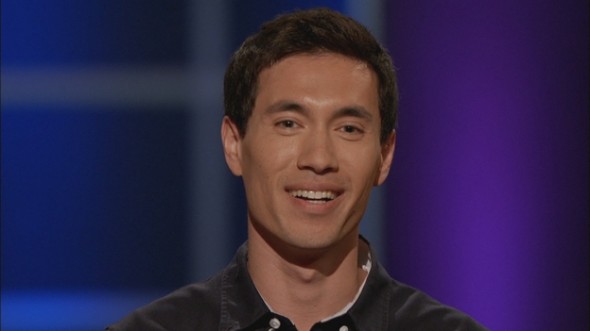 PlateTopper enters the Shark Tank in episode 410. Entrepreneur Michael Tseng presents his award winning food storage device, which was a winner in Walmart's Get On The Shelf contest. Tseng is a Doctor by profession who enjoys the engineering and invention process. Essentially, the PlateTopper is a plastic, half storage container with a suction device that keeps it fastened to a plate. Using this product is more convenient than shoveling leftovers into a new container and neater than wrapping a plate with plastic wrap. It's also microwave and dishwasher safe. He's been working on perfecting the PlateTopper for years, and now it's ready to be released to the world, and the Sharks.
PlateTopper Shark Tank Recap
Michael came into the Shark Tank seeking $90k for a 5% share in his business. The Sharks are wowed by the PlateTopper, it is a "game changing" idea in home food storage. Michael needs cash to fund Purchase Orders from Walmart and QVC totaling over $1 million.
Mr. Wonderful wants to finance PlateTopper and offers $90K for a straight 5% royalty. Lori blows Kevin out of the water with and offer of $900K for 30% with a promise of continued cash flow as the need arises. Daymond trumps Lori with a $1 million offer for 25%. Michael loses out on Daymond when he dances around the "real number" he was thinking of asking for. Lori cuts her offer to the original asking equity while Michael appears to struggle. As Robert watches the train wreck, he goes out too.
Michael finally throws a number out there. He asks $750K for 5% and the Sharks start feeling like they're getting the run around. Mark jumps in the fray and has Michael go out in the hall and call his brother. When he returns, he proposes $1.5 million for 10% to Mark. Mark goes out. Michael then tries to engage the Sharks in a bidding war and his tactics backfire. Lori and Michael FINALLY come to a deal at $90K for 8%.
PlateTopper Shark Tank Update
Michael Tseng spent nearly 2 hours on the set – more than any other entrepreneur to date. The PlateTopper segment was the longest in Shark Tank history, too. Lori and PlateTopper never did a deal. during the episode's original broadcast, Lori tweeted: "Sorry to say I wound up not liking his tactics much either, that agony didn't end in the tank. I'm out!" Shark Tank Blog interviewed Michael Tseng after the show and he revealed it was he who backed out of the deal, not Lori.
Despite one of the craziest pitches ever seen on Shark Tank, Michael and PlateTopper are doing quite nicely. Using PO Financing, Tseng was able to stock the shelves at Walmart and continue to sell on QVC. PlateTopper hopes to do over $10 million in sales!
Sometime in 2015, Michael ceased operations for the Plate Topper brand. The Plate Topper's parent company, Prestagon, still exists and continues to develop consumer products. The old Plate Topper, now called My Topper, is available on that site and Amazon. As of August, 2023, Prestagon's annual revenues are $900,000.
***EDITOR'S NOTE: I have the Plate Topper and Bowl Topper and have been using them on a weekly basis for years. It's a very handy thing to have in your kitchen!****
Posts About PlateTopper on Shark Tank Blog
Plate Topper is On the Shelf and In the Tank
Food Storage Pioneer Michael Tseng Interview
Plate Topper Update – Bowl Topper
PlateTopper Information