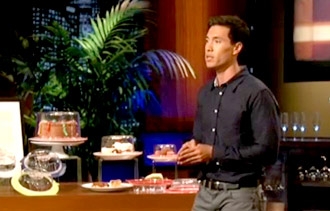 Michael Tseng from season 4  gave me a call to give me a Plate Topper update last week. In case you don't remember, he was the guy who had arguably the biggest "train wreck" pitch in Shark Tank history. He went from a million dollar offer all the way down to a 90K offer that ultimately didn't go through. In an interview with Shark Tank Blog last year, Michael detailed his plans for Plate Topper. He had potential for a huge roll-out with WalMart and Plate Topper was selling well on QVC, but in 2013, Michael found it necessary that Plate Topper update its product marketing strategy.
Plate Topper Update on WalMart
"The WalMart experience was sobering," says Michael, "we had Plate Topper in 1000 stores for a one time test run. We worked with a company called New Creature to do in store displays with 120 units per display per store, but it was tough to get traction. At the end of the test period, they told us we hadn't sold the 3.5 sales per week per store minimum."
"They wouldn't release the actual sales figures to us, but the bottom line is we can't pay for the level of advertising to sustain sales there. Every time our episode had a re-run, we saw a 75% jump in retail sales, but it wasn't sustainable. Plate Topper sells well on Amazon and QVC, but it's been tough in terms of business outside those channels. It's been a mixed bag since the show, we have not sustained a sales presence. I really think QVC is the best way to start  with a product because they house the whole ecosystem from sales to fulfillment."
New Product: Bowl Topper
Despite the fact Plate Topper is, according to Michael,  "running at a break-even clip," he's decided to expand the Plate Topper concept to include a new product: Bowl Topper. The Bowl Topper has the same suction/seal functionality as the Plate Topper, but it's designed for bowls.
"Food storage industry is stagnant," Michael continues, "with Plate Topper and Bowl Topper,  we have a complete line of food storage products. Now, we can cover everything. The Bowl Topper is actually more functional for family food storage. We're reflecting on the process we went through with Plate Topper so we have a game plan for Bowl Topper."
Michael does indeed have a plan for Bowl Topper. He's produced a professional online video to help increase consumer awareness and he's running a crowd funding campaign on IndieGoGo to raise $12K to help alleviate manufacturing costs. People who fund Bowl Topper will receive product on a "pre-order" basis.
"We're offering product combinations on IndieGoGo priced $10-$15 apart. We're hoping to get an idea of which combinations are more popular for future packaging options."
The $12K will also help jump-start the initial manufacturing run for another set of QVC appearances. "I've worked with a QVC agent since 2009. They introduce the product to the QVC buyer, then the buyer reviews the product. Each product is subject to a separate review and I don't make assumptions with buyers anymore. It's a 24-7 hustle, but  we're charging ahead with QVC until we have a clear idea how successful it will be."
"I've also had conversations with large companies about licensing, but I feel like I've made such a committment that I want to carry on, but it's definitely something I'd consider."
Shark Tank Thoughts
Mark Cuban recently gave kudos to Michael in a Business Insider article. Cuban said Michael "was a J.D., Ph.D., and MBA, but he thought he was smarter than all five of us. What I loved about him is that he never quit and kept coming back at us with confidence and eventually got a deal." Mr. Cuban didn't mention that Lori and Michael's deal never materialized.
"Mark Cuban definitely thought I have more degrees than I actually do," Michael chuckles, "but I am continuing my education. I'm attending a 'programming boot-camp' to learn how to code. I'd like to get involved with medical knowledge visualization."
While there may not be a Plate Topper update segment on the Shark Tank anytime soon, Michael is undeterred. He's pushing forward with Bowl Topper. I asked him if he had any regrets about how things went down in the Tank.
"Part of the shock of not working with Lori was hard at the time, I'd love to have her star power. The one regret I do have is I wish I hadn't alienated Daymond. I had an inflated sense of value assuming the WalMart deal went through. At the time, I did my due diligence and I had purchase order financing with WalMart."
Michael sent along a sample of the Plate Topper and the Bowl Topper, so I'll be reviewing them soon. As for Michael's parting words: "I am sure I am much more humble and have a greater appreciation of what it takes to finalize retail deals. In the future, I would never make sales projections on anything but prior month sales."