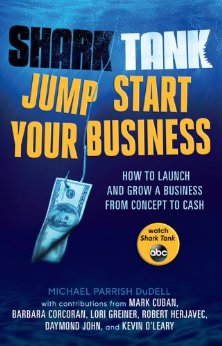 For the second time in season 5, Shark Tank Blog and the good folks at purchaseorderfinancing.com are giving away a pile of Shark Tank books, including the new release, Shark Tank Jump Start Your Business, by Michael Parrish DuDell. In addition to the new book, we're giving away ALL the Sharks' Books as part of the second Shark Tank Survival Kit contest in season 5!
Jump Start Your Business with the Sharks
DeDell's book features segments by Mark Cuban, Barbara Corcoran, Lori Grenier, Robert Herjavec, Daymond John, and Kevin "Mr. Wonderful" O'Leary. They offer their advice on growing and launching businesses from the conceptual and the reality based side of the coin. It's not just inspirational, get you excited to get going reading, there is real nuts and bolts advice in these pages. The reviews are in, Shark Tank Jump Start Your Business is a HIT!
The other books by the Sharks included in the Shark Tank Survival Kit are:
WIN All Six Books!
Any one of these books is MUST READING for any entrepreneur, now the Shark Tank Blog is giving you a chance to win all six. All you have to do is sign up for our newsletter (the box is in the upper right) and you are automatically entered for this and every other contest Shark Tank Blog runs. If you want an additional entry, go LIKE Shark Tank Blog on Facebook. That's all there is to it!
We'll pick a winner on December 6, Good Luck!