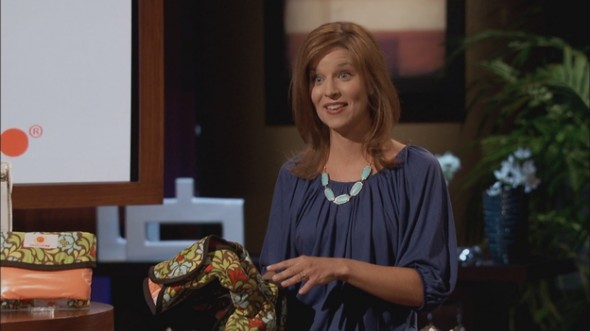 Cool Wazoo is a multi-purpose, 5-in-1 baby cover that functions as diaper changing pad, restaurant high chair cover, grocery cart cover, car shade, and bucket swing seat insert. Entrepreneur Ginelle Mills originally created Cool Wazoo as a heat shield for seating young children on hot surfaces after her daughter was burned on a hot metal swing. Ginelle has had a setback  developing her product when manufacturing defects wiped out over 80% of a recent order. While the Cool Wazoo has had a lot of positive press from the Today Show and The Doctors, she's only sold $20K worth in the year prior to taping. She hopes to bring manufacturing to Hong Kong to cut her per unit cost by 65%.
Cool Wazoo Shark Tank Recap
Ginelle comes into the Shark Tank seeking $65k for 25% of the Cool Wazoo. She needs the money to buy inventory, but she puts the Sharks off when she reveals she's already sunk $96K into the business. Robert doesn't want to get involved in Ginelle's journey; he's out. Mr. Wonderful can't figure out what the it is supposed to be, so he's out too. Daymond doesn't think he can bring anything to the table; he's out. Lori loves Ginelle, but is on the fence about the product; she goes out. Mark doesn't want to finance Ginelle's business education, so he's out too.
After all the Sharks go out, Ginelle is reduced to tears. She pours her heart out about what she's sacrificed to try to build this business. The emotional pitch tugs at Lori's heartstrings and Lori comes back in with an offer of $65K for 25%. The two women share an emotional embrace and Lori says they'll find a way to work things out.
Cool Wazoo Shark Tank Update
The deal with Lori never closed. In the immediate aftermath of the show, Ginelle continued to sell on her website, which was re-designed after her appearance, complete with a Shopify eCommerce store. There isn't much in the way of updates on the website or company Facebook page, but that is probably due to Ginelle hitting the Trade Show circuit. Cool Wazoo had a booth at the San Francisco International Buyers Show in February and Ginelle hopes to have the product in stores by the third quarter.  In September, 2015, she licensed the product to Kids 2 which sells as Comfort and Harmony in Babies R Us stores. Details of the licensing deal were undisclosed.
In March, 2020, she started Box Partie, a virtual baby shower service.
Posts about Cool Wazoo on Shark Tank Blog
Cool Wazoo Multi Purpose Baby Cover
Company Information