Episode 408 – Shark Tank Season 4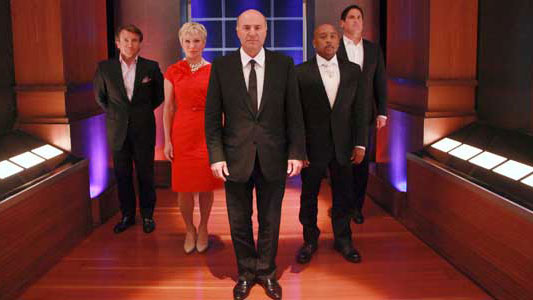 Shark Tank Episode 408, Season 4 brings yet another celebrity into the Shark Tank. This time, it's legendary comedy writer Bruce Vilanch (people of a certain age will remember his four-year stint on The Hollywood Squares) who will help pitch his friend, David Cox's PC Classes Online. Vilanch is a comedy pro and promises to have at least two memorable catch phrases on Shark Tank fans' lips this Friday. Entrepreneur Drew Beaumier zooms in with his Transformer costumes called Drive Suits. Beverly Vines-Haines and Charlotte Clary, two grandmothers from Yelm, Washington, hope to sweeten up the Shark Tank with their organic xylitol sweetened candy called Ice Chips.
Success stories are shown every week, and Shark Tank Episode 408 showcases Jeff Cohen and his son Josh who walked away from a deal for Voyage Air Guitar with Mr. Wonderful in season 1, but later ended up partnering with him "off screen."  They ended up partnering with Fender to distribute their product under license and the guitars are strong sellers on Amazon. To date, Voyage Air Guitar has sold millions of dollars in product.
This week, ABC announced two more Shark Tank Episodes for Season 4. That makes twenty-four episodes. If you would like to appear on the show, check out our Auditions and Casting information.
Episode 408 – The Shark Investors and Entrepreneurs
The Shark Tank Episode 408 entrepreneurs will make their best pitch to the panel of five Shark investors who will use their own money if they choose to invest. The Shark Investors negotiate on the spot without any previous information, which differs from typical negotiations between venture capital investors and entrepreneurial start-ups.
Companies pitching the Shark Investors must go through a rigorous due diligence process before an on-air deal is completed. Shark Tank Blog follow ups help you keep track of the companies that end up successful and the ones that don't complete their deal.
Thank you for reading Shark Tank Blog, the number one site for Entrepreneurs, Investors and Fans. Our content is updated multiple times day, giving you the latest information on Episode 408, Season 4, and all other seasons and episodes.