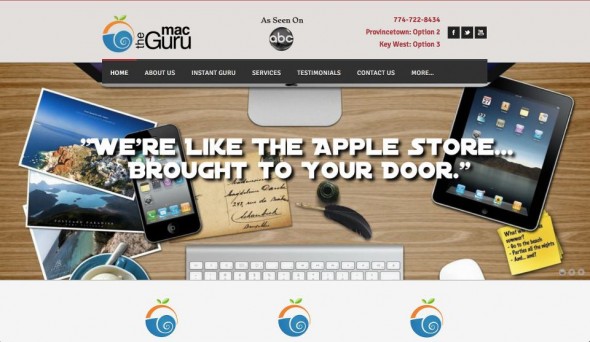 David Cox, aka The Mac Guru, pitches his business called PC Classes Online in Shark Tank episode 408. David isn't alone in the Shark Tank: he has friend and Emmy winning comedy writer Bruce Vilanch assisting. David grew up with Mac computers and found himself teaching the over-50 crowd at an Apple store he worked at. His lessons were so popular and well attended, he created an online, tutorial library to broaden his educational reach. Subscribers to PC Classes Online have instant lessons on everything Mac. David has a vision to bring his online educational library to the masses as an add-on sale in Apple stores.
Mac Guru Shark Tank Recap
The Mac Guru is seeking $150k for a 15% piece of the PC Classes Online business. He introduces Vilanch and says he taught the funny man's mother how to Skype. David has $35K in sales and wants to sell subscriptions to PC Classes Online on a larger scale.
The Sharks go on the attack and chomp into David when he appears confused about the difference between an add-on sale and a bundled sale. Mark rips him for not knowing the difference and Mr. Wonderful actually calls him a bozo! Mark says online classes like David's have been around since the 1980's and doesn't believe David knows what he's doing. Mark goes out and the other Sharks quickly follow. David leaves with no investment, but in a funny parting comment, Vilanch says "Let's go get Sushi."
Mac Guru Shark Tank Update
What David believed was an "unkind" edit turned out to be not so bad for him after all. After appearing, his Mac Guru business got a big boost. David has traveled all over doing corporate computer trainings and live classes nationwide. The PC Classes Online business still moves forward, but David capitalized on his "Shark Tank cache" by boosting the Mac Guru business. He calls it "the Apple store brought to your door" and offers complete, on site sales, service and training. He truly is "The REAL Mac Guru." David shuttered that business in 2015. He continues educating computer users with his Youtube Channel, Tech Talk America.
Posts About The Mac Guru on Shark Tank Blog
PC Classes Online – Let's Get Some Sushi
David Cox of PC Classes Online Pre-Show Interview
David Cox PC Classes Online Follow up
Company Information