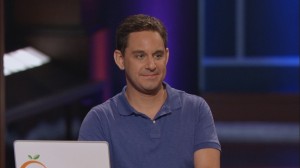 David Cox brought PC Classes Online into the Shark Tank last Friday. He hoped the Sharks would see the educational benefit of his online school to teach people how to use their computers, instead he got schooled by the Sharks, or should I say by the Shark Tank editors. I spoke to David last week for a pre – show interview about PC Classes Online and I was sure he was going to leave the Shark Tank with a deal. Alas, it was not meant to be. David Cox was summarily skewered by both the Sharks and the show's editing staff.
Celebrity Endorser Bruce Vilanch a non Factor
Like No Fly Cone, who had none other than Seth MacFarlane endorsing the product, David Cox's celebrity friend Bruce Vilanch was no help in the Shark Tank. Unlike MacFarlane, who appeared uncomfortable and didn't help the pitch, Vilanch was a non factor due to the edit. Besides an introductory "hello," a quip about how David Cox "showed my mother how to Skype, now I can't get rid of her," and the parting "let's go get Sushi," Vilanch was barely even shown during the pitch. David says the funniest line of the pitch was omitted. "At one point, when everything was going to hell, Robert asked Bruce what he thought my chances were. Bruce said, 'I think Nemo has a better shot of surviving the Shark Tank!'" It's too bad the Shark Tank makes such a big deal about celebrity guests and doesn't use their material more.
"I never realized," David said, "how deep the rabbit hole the statement in the credits 'portions of the program not affecting the outcome have been edited' could go. The Mark Cuban comment was the turning point. He took my mix up of the terms 'add-on' and 'bundle,' put it under a microscope, and he jumped all over me. He took a paper cut and turned it into a gushing wound. If I ripped my customers a new one every time they mixed up terminology, I'd be out of business!"
"They skipped the part about money and missed the big picture. We operate on 97% profit margins. The only other Shark Tank business that does that is Steve Gadlin (the Cat Drawing Guy).  PC Classes Online is about education. I want to work with people who share my qualities: patience, good heart, and understanding. We've had a lot of activity and most of the emails and comments have been positive. I went through all the Twitter comments from Friday night and there were only two negative ones."
David Cox Moving forward
"People always talk about their 'AHA moment.' I had an 'Uh Oh moment' when I realized my Emerson education isn't going to help me in business." David lapsed into his inner Bostonian for a moment. "I want to bring in a WICKED SMAHT business manager to handle the business side of things so I can focus on the educational side."
Another thing David Cox needs some help with is marketing an information product. PC Classes Online is an educational information product and marketing it through different sales channels, including the affiliate channel, is a laborious task. It looks like he'll have some help. "I got a call from a major web guru type who consults for major websites. He wants PC Classes Online for his mother, loves the product, and he's a big Bruce Vilanch fan. He offered to do some pro bono work for us. While we were on the phone, Bruce called and I conferenced him in. When Bruce hung up, the guy said 'dude, you just made my day!'"
Overall, David Cox is looking at the positives. "Shark Tank gave us a pedestal. Now it's my responsibility to take that opportunity, plan our moves, and strike back. We had a lot of web activity Friday and a lot of people are looking at PC Classes Online as a holiday gift. When people say 'I believe in your product,'  it feels good as long as people see you are being sincere."
Would David Cox Do it again?
"Absolutely. As I said on my Facebook, 'how do you beat a Shark? Be a dolphin! Being on Shark Tank allowed me to make powerful connections that will become an asset to our business. No deal may end up being the best thing that ever happened."
I had one other question for David Cox. Get the answer on The Hot Dog Truck.