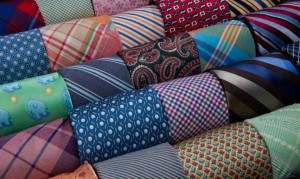 Tie Try, billed as the "Netflix of Ties," takes a dip in the Shark Tank in episode 411. Entrepreneur Scott Tindle will pitch the Sharks on his business that, for a monthly subscription fee of $12 to $30, allows men to have a new tie sent to them to wear. When the ties are returned, a new one is shipped out.
Tie Try History
Tindle claims the Shark Tank inspired him to create the Tie Try business about a year ago. He thought of Tie Try while watching Toygaroo get a deal for their failed toy rental business. Tindle and partner David Powers still have their day jobs, but they'd like to be the next Shark Tank success story. They carry high-end, designer name ties like Calvin Klein, Brooks Brothers, and Giorgio Armani. The Tie Try entrepreneurs get the ties wholesale, so they can afford to rent them out at a reasonable rate. They've beefed up their website for the show, hoping to get many new subscribers for their service.
Do the Sharks like Tie Try, or is it "knot" a Good Investment?
The Sharks are all snappy dressers, so they will appreciate the quality neck wear Tie Try brings to the table. Wounds from Netflix style business models in the Shark Tank (Toygaroo) may still be fresh for Kevin and Mark, so I think they will be out fairly quickly. Renting high fashion is counter to Daymond's core business, so he's probably out too. Robert will probably think it's "too early," and Barbara will probably just think it's "icky."
Tie Try was not featured in any of the ABC press releases, which leads me to believe the business was added once ABC decided to pick up two more episodes. Tie Try probably got called (like TriMi Tank) after being told they didn't make it so ABC could use the segment to fill additional air time created by the added episodes. The Shark Tank wouldn't cut an episode where an entrepreneur was funded, so I think Tie Try walks away empty-handed.