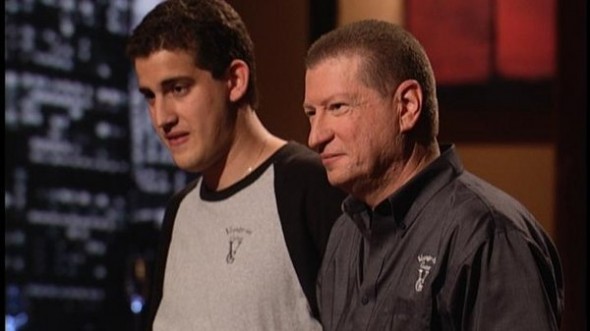 Father and son inventors and musicians Jeff and Josh Cohen pitch Voyage Air Guitar in episode 103. Their product is a top quality guitar with a neck that folds down for easier transport. The folding neck lets people pack guitars more efficiently when traveling without sacrificing sound quality. Originally conceptualized in their small guitar shop, the Cohens wanted quality to be the first priority in their business. They perfected and patented the Voyage Air Guitar with the help of Harvey Leach, a guitar maker since 1972. The Cohens believe Voyage Air is "The Future of Guitar Travel."

Voyage Air Guitar Shark Tank Recap
The segment  opens with Jeff and Josh in their shop as Jeff explains his need for financing to grow his business. When they enter the Tank, they ask for $500K for 5% of Voyage of his business.  The Sharks verbally balk at the valuation as Josh plays a few riffs. Then they show how the guitars fold in half. Josh folds it up and puts it in its case, but Mr. Wonderful wants to see if it stays in tune; it does.
They've sold 800 units for $400K in sales, but Jeff reveals the company is cash flow negative. The Sharks question the valuation as Jeff defends it. Robert suggests licensing the patented hinge to existing guitar makers. Jeff wants to demonstrate market acceptance first, but Robert wants to buy the rights to the patent. Jeff then says he'll sell 49% of the patent for $1 million. Mr. Wonderful offers $500K for 51% of the business and explains his licensing expertise to the Cohens.
Jeff says he won't give up 51% and Robert goes out. Mr. Wonderful continues the hard sell and Kevin Harrington offers to come in on the deal. Barbara and Daymond go out and Jeff says he'll do $500K for 50-50. Mr. Wonderful says "you're dead to me" after Jeff declines.
Voyage Air Guitar Shark Tank Update
The company got an update segment in episode 208 in season 2 where they revealed they launched in 200 retail stores nation-wide. Jeff and Josh returned to tape a second segment in season three and it turns out they weren't dead to Mr. Wonderful after all. The segment never aired because the producers thought the deal they made was too complicated to air. Cohen says it was the biggest deal to date, and it never even aired! In a second update segment in episode 408 in season 4, Mr. Wonderful secured Voyage Air Guitar a licensing deal with Fender, one of the largest guitar makers on earth.
In 2017, Cohen founded AIRx Medical, Inc., a company that develops medical devices that use ultraviolet light to destroy pathogens in the body.
As of July, 2022, Voyage Air is still in business and doing $1 million in annual revenue.
Posts about Voyage Air Guitar on Shark Tank Blog
Voyage Air Guitar Jeff Cohen Deal?
Company Information
Video