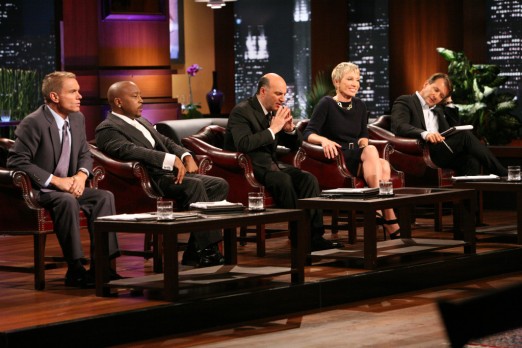 Episode 103 features 5 entrepreneurs hoping to partner with one of the wealthy Shark investors. Marian Cruz is looking for a Shark to help her develop her Turbobaster, a battery-powered basting brush/cooking juice extraction system. Brian Parks pitches his Chopstick Art, his business that uses recycled chopsticks to create baskets and wine holders (among other things). Lori Lite hopes the Sharks get a read on Stress Free Kids, her series of children's books designed to calm over active children at bedtime. Ken Bradford seeks a deal for 50 State Capitols, a set of playing cards that teaches US geography. Father and son entrepreneurs Jeff and Josh Cohen hope to strike a chord with the Sharks and get an investment in Voyage Air Guitar, a guitar that folds in half for easy packing.  Who gets an investment in the Shark Tank  and who leaves empty-handed?
Episode 103 Air Dates
First Run –  August 23, 2009
Follow up segments featuring past Shark Tank success stories are a regular feature on Shark Tank. Since Episode 103 was only the third episode to air, there is no update segment. There were 14 Shark Tank Episodes for Season 1. Casting is currently closed, but it never hurts to get a head start on next season! If you would like to appear on the show, check out our Auditions and Casting information.
Episode 103 – The Shark Investors and Entrepreneurs
The Shark Tank Episode 103 entrepreneurs make their best pitch to the panel of five Shark investors who will use their own money if they choose to invest. The Shark Investors negotiate on the spot without any previous information, which differs from typical negotiations between venture capital investors and entrepreneurial start-ups. Companies pitching the Shark Investors must go through a rigorous due diligence process before an on-air deal is completed. Shark Tank Blog follow ups help you keep track of the companies that end up successful and the ones that don't complete their deal. Thank you for reading SharkTankBlog, the number one site for Entrepreneurs, Investors and Fans. Our content updates multiple times day, giving you the latest information on Episode 103, Season 1, and all other seasons and episodes.