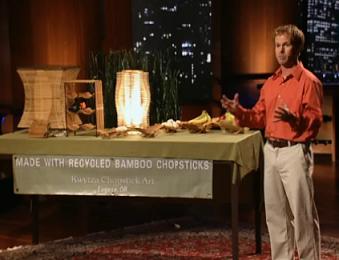 Brian Parks is the creator of Chopstick Art, a line of baskets, trivets, and other household items made from recycled chopsticks. He got the idea for his business while eating in China with a friend. When he found out BILLIONS of chopsticks get thrown away each year, he decided he wanted to create something useful from the discarded utensils. Bryan gets used chopsticks from restaurants, sanitizes them with high heat, and creates his Chopstick Art. The results are "exquisite designs that pair eastern aesthetics with western conservationism."
Chopstick Art Shark Tank Recap
The segment  opens with a montage with Bryan in his hometown of Eugene, Oregon. Bryan enters the Tank seeking $100K for 10% of Chopstick Art. His pitch explains his story and reveals 25 BILLION pairs of chopsticks get tossed out every year. The Sharks are amused by Bryan's good-natured pitch and the fact he's done $500K in sales in 5 years with little marketing and no advertising.
The Sharks like the product and Bryan, but not the business opportunity and each Shark goes out in fairly rapid succession. The business is too small for Sharks.
Chopstick Art Shark Tank Update
Bryan continues to sell his creations from his website. He also wholesales his products to retailers. While the business didn't make millions, Bryan is living the dream: doing what he loves and getting paid to do it! As of November, 2021, he's still in business and makes about $200,000 per year.
Company Information
Video