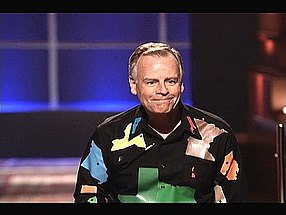 Motivational author Ken Bradford pitches his instructional product, 50 State Capitals in 50 Fun Minutes, in episode 103. The product is a deck of flash cards that uses phonetics, cartoons, and word association to make it easy to learn and memorize all 50 state capitals in 50 minutes. As of taping, the product is a prototype.

50 State Capitals Deck Shark Tank Recap
The segment  opens when Ken walks into the Tank wearing a Dr. Seuss-like coat and hat. He's looking for a $155K investment for 10% of 50 State Capitals in 50 fun Minutes. He goes through three examples before one of the Sharks ask how many he's sold. The answer: one. In one of the shortest pitch segments ever, the Sharks all go out.
50 State Capitals Deck  Shark Tank Update
Ken doesn't have a website, Facebook page or Twitter account for his product, but it is still for sale on Amazon. It looks like it isn't a strong seller, but after 5 years, at least the 50 State Capitals Deck is still in business.
Company Information
Video