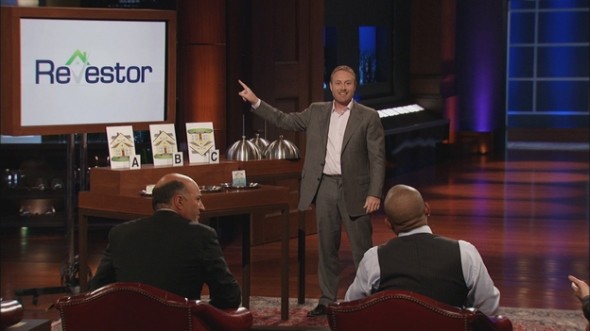 Entrepreneur Bill Lyons pitches Revestor, a real estate investment app, in Shark Tank episode 408. The app does many things: it calculates mortgage payments, cap rate, and cash flow while comparing the variables for nearby properties. It's a tool for real estate buyers, but Revestor is positioned for real estate investors. Agents and Brokers can use Revestor to gather information too. Lyons' background is in the mortgage business, so he has a firm grasp on the numbers side of the real estate market.
The basic app is free, but there is a premium membership option that allows for more detailed customization for individual properties and investment circumstances. Lyons monetizes the app with advertising and through the premium memberships. Data collection is a key to an app like Revestor and the company is continuously adding more data to their database.
Revestor Shark Tank Recap
Bill went in front of the Sharks looking for $250K for 10% of his business. He claims Revestor will be the premier tool for real estate investors nationwide by allowing the app's users to instantaneously have access to information and key indicators that will rate how good the potential for investment is for a property. The app is a primarily a tool for investors, but real estate agents and "regular" buyers can utilize the information too.
Mark flat-out dislikes the business and goes out. Daymond quickly follows. Barbara, who would be a good partner for a real estate related business, doesn't think it's possible for an app to make value estimations; she's out. Robert doesn't think Bill has a solid business concept and he goes out too. Mr. Wonderful thinks real estate investors are too small of a niche in the real estate buyer's market. He admires Bill's efforts, but he goes out too and Revestor leaves with no deal.
Revestor Shark Tank Update
Since the initial appearance, more areas of the country have come online. There is still no Android app and the premium accounts have not been activated yet. Revestor made some inroads with their advertising options which allow real estate brokers to target certain criteria about buyers using the app. The app is still in a developmental phase, but all indicators point to continued roll-out and a fully functioning product by 2013 Q4. In September, 2013, Lyons started Griffin Funding, a mortgage company. By 2021, that business does $5 million in annual revenue. The company website is up and running in August, 2021, but the app is no longer in the app store. The website is functional, but only for greater San Diego.
Posts About Revestor on Shark Tank Blog
Revestor Real Estate Search Engine
Revestor Information