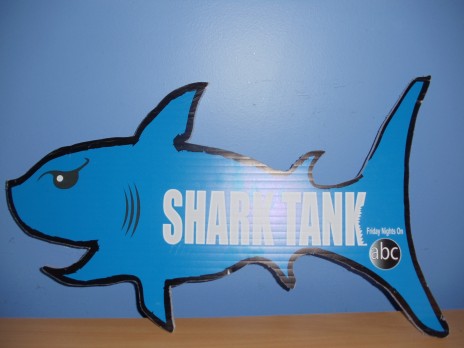 NFL Stars appeared on Shark Tank in the past. Look at Brandon Jacobs who pitched PRO-NRG in season 4. If John Smith had his way, he'd have former NFL Stars and quarterbacks throwing footballs at his Storm Stopper, the Plywood Alternative Hurricane Window Protection – a rigid, corrugated, lightweight but heavy-duty material designed to protect windows from hurricane damage. John sent me a large Shark Tank Shark cut-out made from the same material, along with some info about former NFL Stars he enlisted to endorse Storm Stoppers.
NFL Stars don't guarantee a swim in the Shark Tank
John tried out for Shark Tank. In June, 2013 he got a call from a producer and a casting director. They both liked his idea of having a well-known NFL star quarterback on the show throwing footballs at a Storm Stopper protected window. Other NFL stars have been on the show, but never a quarterback!
John found not one, but TWO former quarterbacks to pitch with him. One is a former Seattle Seahawks player who is in the top 15 All-Time in many NFL passing categories and a Ring of Honor winner. The other is a former San Francisco 49ers quarterback who won a Super Bowl Ring as Joe Montanna's back-up. John also contacted other well-known NFL stars. He spoke to Jeff George from the Colts, Rich Gannon from the Raiders and Vikings, Mike Kruczek who was Terry Bradshaw's backup at the Steelers, and the agents of a bunch of other guys (Trent Dilfer, Donovan McNabb, Ron Jaworski, Brett Favre, etc). He even got Trent Green, former Chiefs quarterback and FOX Sports analyst to pose with his Storm Stopper Shark Tank "logo."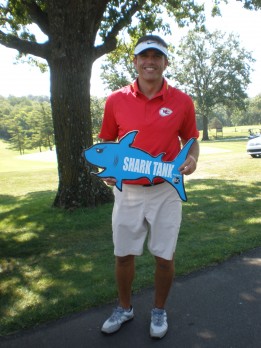 Unfortunately for John, having NFL Stars endorsing his product wasn't enough, and he didn't "make the cut" to be on Shark Tank. John said he was the "Tim Tebow of Shark Tank applicants!" It's too bad, Storm Stoppers is a good business. They've been around since 2004 and have done over $6 million in retail and wholesale sales since. Their website is www.plywoodalternative.com.
John has a few things to say about patents, too. His critically acclaimed book, Don't File a Patent, has been positively reviewed by many patent attorneys. Maybe his disdain for the patent process was his undoing!