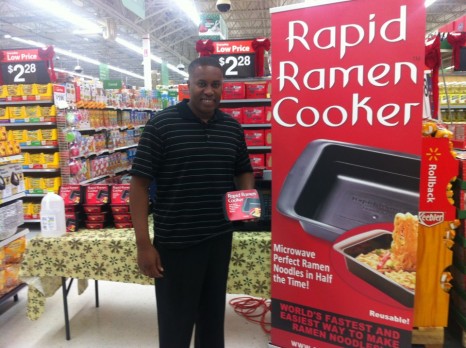 Chris Johnson, a 34 year-old, soon to be multi-millionaire, pitches his Rapid Ramen Cooker to the Sharks in Episode 503. The UC Davis grad currently runs a successful business that does project management, recruiting, and temporary staffing  in the construction, architecture, and engineering fields. After his Shark Tank appearance, he'll be known simply as "The Rapid Ramen guy." I spoke with Chris Johnson today to get a pre-show perspective on his Shark Tank appearance and to learn more about the origins of his business. I'm willing to bet he'll be a difficult guy to nail down after appearing on Shark Tank!
Chris Johnson is an Idea Guy
Chris greeted me on the phone with a hearty laugh. "I am ecstatic about Friday, but I still have a lot of work to do." Chris has no "technical" background, he majored in Communications at UC Davis. "I've always been entrepreneurial, but I never invented anything before. One thing about me is, I know what I know, and I know what I don't know. I made sure I had smart people to help me out. It was scary at times, but you can choose fear or faith. I chose faith."
"I've been eating Ramen Noodles since I was a kid. I practically lived on them when I was in college, and I still eat them for an easy, hot lunch or a snack. Even though Ramen Noodles are easy to make, there's nothing quick about it. It takes 5 minutes to boil the water, then another 4-5 minutes for the noodles to set up. I always made my Ramen in the microwave, but it never tasted quite right; the texture was wrong."
Design by Trial and Error
"I used to crush up the noodles, put them in a bowl with water, and microwave them. I'd sacrifice taste and texture for speed. One day, I made them in the microwave and they came out perfect! The next day, I used the same bowl and it didn't come out the same, but I knew it could be done. The problem with regular bowls is you can't submerge the noodles and if you add too much water, it doesn't cook right."
"So I experimented. I started with square food storage containers, but I needed a prototype for the ideas I had. I didn't know the first thing about making a prototype, but I had a patent attorney for my designs and he introduced me to a plastics professor at Chico State. He took my designs and rendered them for me on a 3 D printer. I tested three different designs with different water levels and cooking times. It took about 200 packs of Ramen to get it right."
"I got an MBA in Retail"
Chris Johnson quickly found out having an idea is one thing, getting a prototype is another. Once Chris accomplished that, he produced a run of product. Now he had to sell them. "We officially launched in September of 2012. We had a website, but we weren't selling many. I saw Walmart had a local purchasing program, so I went to see the manager at a local store. He took me to the break room, went and got some Ramen Noodles off the shelf, and put them in the microwave. When the noodles were cooked, he said 'you have a winner!' We stocked a few hundred in the store, but we still weren't selling many."
"A local TV station picked up on the story and filmed a segment for their news. After that, there was some local buzz, but still not much. I remember someone sending a very negative email. They said the Ramen Noodle Cooker was stupid and a piece of junk and that I was going to be a failure. Since we weren't selling many, doubt started creeping in, but I had the faith to keep moving forward. Three days later, the video of the TV station interview with me went viral. It had something like 380,000 views in a couple of days!"
BAM!
Chris will say "BAM" during his pitch Friday, and it was the viral video that caused the "BAM." When that video went viral, we saw a stretch where we were selling four Ramen Noodle cookers per minute! It's now the number one selling microwave accessory on Amazon. It makes sense. My five-year old can make her own Ramen, people love it for a quick lunch at work, and, as one of my customers pointed out to me, since you use half the water to cook the noodles, you only need half the flavor packet which cuts down on the sodium. With over 90 BILLION packets of Ramen consumed every year, the market is HUGE! We even have a Rapid Ramen Cookbook coming out on Friday when Shark Tank airs."
Chris is in negotiations with the two largest Ramen Noodle makers. "I can't tell you their names, but I want to be everywhere Ramen Noodles are sold." He came all this way prior to getting a call from Shark Tank, which begs the question:
Why does Chris Johnson need the Sharks?
When I asked him this question, he laughed again. "You know, I always watched the show. I got an education from Shark Tank. I literally take notes while I watch. I didn't know about profit margins or business valuation before Shark Tank. Mr. Wonderful taught me to 'know thy numbers.' I'm still a fan of the show, I watch every one. I knew when this started to take off I wanted to try out for Shark Tank. I could raise money locally, but I am so impressed how all of them can take a product to the next level and I wanted them on my team."
"I sent in an application in December (2012) and they kind of said 'thanks, but no thanks.' But I kept pursuing them. I was planning on going to the open casting call when they called me back and had me send a video. I finally taped in June. The good thing is I wasn't in a state of desperation, I was doing pretty good and I knew I had a winner."
Chris won't have his website crash like Sweet Ballz did, he got set up with Shopify and they simply don't crash. Shopify uses the best servers, networks and a global CDN to ensure an e-commerce site is reliable and fast. Chris Johnson, whether he gets a deal or not, is going to sell a TON of Rapid Ramen Noodle Cookers. He can't afford to have his website down for one second!
What is the Deal?
Chris Johnson sounded like a guy who wanted a deal with the Sharks, but of course he couldn't tell me the outcome. If he explains his story, I can't imagine any Shark not wanting to invest in this business. Lori Grenier seems a logical partner because Rapid Ramen is a good TV product: it's useful, has broad appeal, and has a low price point. It's a good retail product, too and if Chris strikes a deal with the noodle manufacturers, he'll need a Shark with good retail connections, so any of the Sharks could be an asset. "You'll have to wait until Friday to find out," he said.
Parting Words
"I'm focused on making Rapid Ramen a success, but I have other ideas too. I have two other related inventions and six more besides that, but they'll have to wait until Rapid Ramen is successful. I'm unique as an inventor because I'm the 'idea guy' and the executor of the business." I asked Chris what he thought it takes to be successful: "You have to have faith. Fear and faith have the same components, they both want you to believe in something that hasn't happened yet."
I had one more question for Chris Johnson. He answers it over at The Hot Dog Truck.