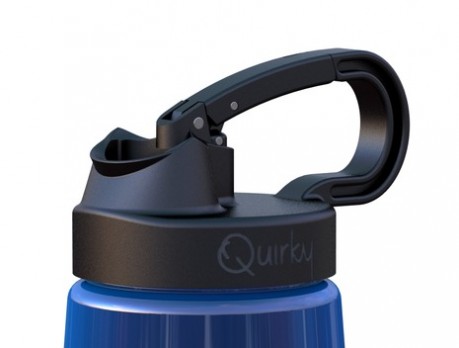 The Shark Tank has spawned many success stories, and inventor Jared Joyce from season three is at it again with his Titan Water Bottle. He's looking to have Quirky review the invention and help him get it into production. In order for that to happen, he needs your vote to have Quirky consider the product. You can vote for the Titan Water Bottle HERE. Jared had some recent success on Quirky with his Ergo CB, an ergonomically correct clipboard and iPad holder (with some help from Shark Tank Blog Readers), so let's get this Shark Tank Entrepreneur over the hump for the Titan Water Bottle!
What is the Titan Water Bottle?
Jared describes the Titan Water Bottle as a "A One Hand Operational, Chuggable, Carabiner Clippable, Water Bottle!" The real innovation is in the top, or cap, of the bottle. The mouthpiece is ergonomically designed to fit your mouth to help reduce spillage, there's an airflow opening so the water flows smoothly from the bottle (you CAN chug it), and the dual purpose clip acts as an opening/closing mechanism for drinking and a heavy-duty clip that can attach to a backpack (or almost anything else). You can also open and close the Titan Water Bottle with one hand – good for people on the go or athletes in the heat of a race.
Jared continues to invent and innovate beyond his Five Minute Furniture. Like many past Shark Tank entrepreneurs, he's managed to keep himself and his products in the public consciousness. While the immediate onslaught of attention has waned since his appearance, he's still known as "that Shark Tank furniture guy" and he's working it!
Jared is very involved with Quirky. He's taken his Plug Hub from idea to product, he has the Ergo CB in the works, and he hopes the Titan Water Bottle is his next Quirky winner. Entrepreneurs with products they's like to develop should investigate Quirky and model their "pitch" after Jared's successes.
Help Jared out and vote for the Titan Water Bottle over at Quirky, and see if they can't help you too.