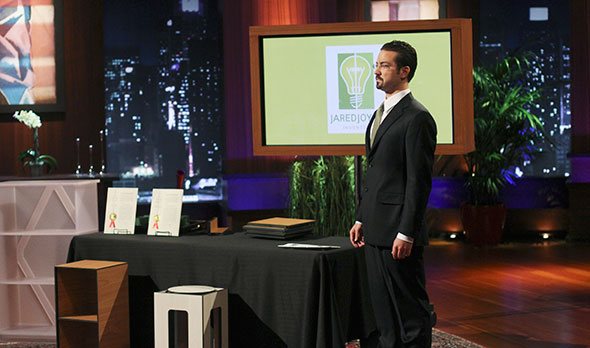 Five Minute Furniture entrepreneur Jared Joyce came to the Shark Tank in season 3, episode 302, with one of his over 80 inventions. Jared created  furniture that can be assembled without screws, glue, or directions in five minutes or less. He has over 30 designs for his Five Minute Furniture which can be applied to just about any 3D furniture from bookshelves to end tables. Jared is a prolific inventor who doesn't believe licensing is the way to go for Five Minute Furniture since the world will always need furniture.
Five Minute Furniture Shark Tank Pitch
Jared went into the Shark Tank looking for a $250K investment for a 25% share in his business. There were other investors already committed, including Edison Nation, so there was very little wiggle room for equity. The business was still in a very developmental phase when the episode first aired, so there were no sales.
Kevin O'Leary wants to see sales, especially with a $1 million business valuation; he has his doubts. Robert doesn't trust Jared to get his investment back out of Five Minute Furniture and Daymond wants a piece of Jared's other inventions; they are both out. Mark Cuban thinks there are too many people in on Five Minute Furniture already, so he's out too. Lori offers $250K for the entire business and Kevin joins her in that bid. Jared was more interested in plugging into the Sharks' networks and creating a partnership. He's not interested in selling, so he declines the offer.
Five Minute Furniture after Shark Tank
Jared unsuccessfully tried to get his furniture into Wal Mart's Get On the Shelf contest, but he continues to move forward with Edison Nation with manufacturing plans. In 2013, the world could be introduced to Five Minute Furniture in a very big way. Non disclosure agreements prohibit Jared from discussing particulars about Five Minute Furniture at this time, but Shark Tank Blog will continue to follow the progress of this very promising business.
Jared still holds a patent for the furniture, but has not found a company to license it. He continues to innovate and invent and has worked with over 200 products. As of July, 2021, he is still creating new things. You can see some of the products he brought to market on his website.
Posts about Jared Joyce on Shark Tank Blog
Jared Joyce Update on Plug Hub and Post Shark Tank Life
An Inventor's Life After Shark Tank
Jared Joyce, Inventor: Mad Genius or Shark Bait