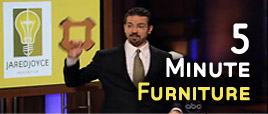 Jared Joyce is perhaps the best example to date of how to use the Shark Tank as a promotional vehicle both before and after the show has been aired. Pre- show, he produced his own teaser video.  He also did a live streaming broadcast during and after the show and he continues to promote both himself and his company.
The following two videos give a lot of insight into his thoughts about his appearance and about the off camera workings of the show.
The first video has Jared talking about the process of getting picked for Shark Tank, what he had to do to prepare for being on the show, contractual obligations and the editing process. What strikes me about this video is the enormity of being on Shark Tank. There is a lot of work to do before even being picked for the show. The care the entrepreneurs must put into the on air negotiations makes wording each phrase very important.
The second video is of the question and answer session Jared Joyce conducted live, online after the show was broadcast. In this video, Jared reveals the deal he made with Edison Nation and tells about how he plans to move forward with 5 Minute Furniture and other products. He also shares his business philosophy about mentoring, making deals, and future plans. One interesting point he reveals is he actually applied to be on the show for season two, but he tried pitching four products, which was too much for the sharks. They called him back for season three because they remembered him and his furniture. The best tid bit from this video is when Jared claimed "it takes ten years to be an overnight success. I'm in year eight."
I had the opportunity to speak with Jared on the phone today. He was very forthcoming. He has lots of plans for his Five Minute Furniture and we should see it in stores in a year or so. Manufacturing furniture on a mass scale is no small undertaking. Jared eventually inked a deal with Edison Nation for his Five Minute Furniture and he didn't have to give up 100% of the business either. Jared's been a member of Edison Nation, home of the $25 Million Innovation Fund, since 2008. Edison Nation is kind of like an ongoing Shark Tank, they match major manufacturers with inventors and invest up to $250,000 on items they target as promising. Their staff does all of the "grunt work" so inventors can focus on inventing. The royalties on products brought to market are far more generous than the Sharks' offer to Jared!
Jared found the Shark Tank experience to be rewarding. As previously stated, he is certainly leveraging the exposure better than any other entrepreneur in recent history. He described the arduous process of being accepted for the show. The one thing he stressed is that each of the sharks were genuinely nice people and he enjoyed meeting them. I'll have more info on Jared's progress as the months wear on- we here at the Shark Tank blog want to see him, and all the other entrepreneurs, succeed.
On another interesting note, Daymond John has partnered with Edison Nation to bring more innovative products (ones that don't make it on The Shark Tank), to market.
One question that comes to mind after watching these clips is what happens to the approximately 2 hours of footage that doesn't get shown on the broadcast. The Sharks could probably have a great "bloopers and out-takes" show; that would be entertaining!