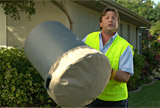 I write this blog for many reasons, as does my partner, Kirk. First and foremost, we both love the Shark Tank show for its weekly mini dramas surrounding each entrepreneur. We also like the different Sharks, their personalities, and their stories. Both Kirk and I have owned multiple businesses in our lives and we decided to team up and form a business of our own. We like to call ourselves "Serial Entrepreneurs." This blog is actually one of our business ventures.
One of the things I have endeavored to accomplish with this blog is to continue to highlight the entrepreneurs who appear on the show, whether they got funded or not. Some of the entrepreneurs reach out to us directly, and either Kirk or I seek reactions for others. Guys like Jared Joyce are very public about their experiences on the Shark Tank- Jared is an excellent example of leveraging his appearance on the Shark Tank to its full advantage.
One Shark Tank contestant I have reached out to is the team of Kevin and Melissa Kiernan. They're the folks who did a deal with Daymond John a few weeks ago for their replacement trash can cover, The Last Lid. In case you missed it, the Last Lid is a heavy-duty, fabric trash can cover that will not become dislodged and will fit virtually any trash can. It is a quintessential "As Seen on TV" type product.
After the show aired, I reached out to Kevin and Melissa and asked them to update us on their progress since the show aired. Kevin was an active commenter on this site on our pre-show posts, but once the show aired, he had to run his now booming business.
Melissa emailed me this update on their progress today:
"Sorry it took me a bit to get back to you, but my husband surprised me with a quick getaway to Jamaica before all the chaos started and we returned late last night.
Anyway, thank you for writing that amazing story on us , we appreciate all the positive media we have been getting about Last Lid. To date, heres a quick follow up since taping the show in July. When we returned from the show we heard from Daymond personally approximately one month after. He was excited to work with us on our invention and from a personal and business aspect, he was the shark we wanted a deal with the most based on his knowledge with manufacturing and also that fact that he is the branding guru. We have met with him several times and Daymond made an appearance at our viewing party the night of the show!! It's great to deal with him and not have to go through an assistant all the time if we have questions. As of now, our infomercial is rolling out next week on cable and the Last Lid is currently in the process of being manufactured overseas. We're looking to license it and who wouldnt want a Last Lid on their garbage can with their favorite team logo on it!! Were also looking to get it into retail as soon as possible. All of this wouldn't have been possible without Daymond and the exposure from shark tank and we're extremely grateful for all of it!"
It sounds like things are really rolling for the Kiernan's. We here at the Shark Tank Blog wish them the best and hope they get to a million units.