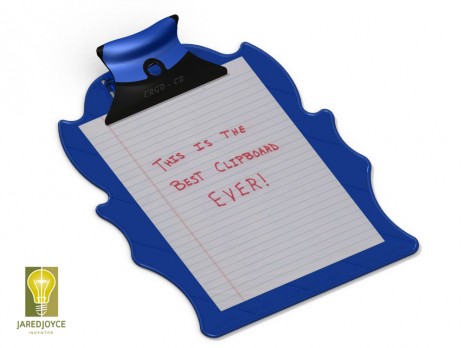 Jared Joyce, a Shark Tank season 3 entrepreneur who presented his 5 Minute Furniture to the Sharks, is at it again with the ERGO-CB, an ergonomic clipboard and iPad holder. Joyce is a Quirky inventor with dozens of products in development. 5 Minute Furniture is still about a year away from being available to the public, but Joyce has already brought the Plug Hub to market and has other products in the pipeline too.
ERGO-CB Gets a Utility Patent
On August 27, 2013, the ERGO-CB was issued US Utility Patent 8,517,330 B1 as the first Ergonomic Clipboard/Pad Holder/Tablet holder of its kind. Joyce stated in an email that "this one took nearly 9 years to come back from the patent office!"
The ERGO-CB is designed to promote the natural curvature of the hands and wrist.Traditional clipboards without this kind of ergonomics can lead to repetitive stress injuries by holding the "traditional clipboard's" rectangular shape which requires the user to hold their arm in an unnatural position.  The ERGO-CB solves this problem.
According to Mr. Joyce:
"The design was developed by evaluating the elbow to wrist measurements of people heights 5′-0″ – 6′-4″. The data then helped produce three primary comfortable holding positions for the user around the perimeter. The product works in both portrait or landscape holding positions."
Jared Joyce may have failed to get funded on Shark Tank, but it certainly hasn't stopped him from moving forward with his inventions. Mr. Joyce can best be described as a serial entrepreneur and inventor. He embodies the American entrepreneurial spirit: he's always inventing, improving, and  moving forward with his ideas.
With his many successes and failures, he's a far more realistic representation of an entrepreneur than the "Cinderella Stories" portrayed on Shark Tank. Whether the Sharks funded him or not, Jared Joyce and his ERGO-CB are the latest of many Shark Tank success stories! The ERGO-CB is up for review on Quirky. Head on over and give the idea some feedback.