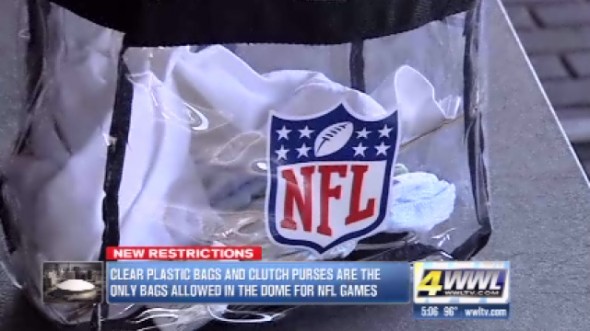 It's almost fall and the start of an exciting new season on Shark Tank …and with that…are you ready for some FOOTBALL!?   By now you've likely heard a LOT about the controversial new NFL bag ban policy that bans many purses and bags from stadiums. The NFL bag ban only allows clear, see-through bags into stadiums this season. While it provides for a new merchandising opportunity for the NFL, many fans are crying FOUL. This is actually great news for Shark Tank Season 3 Alum Scott Jordan's Scottevest, and Shark Tank hopeful Kendra Kroll's PortaPocket!
So what's the issue with the new NFL bag ban?  Well…go ahead and wade into the dangerous waters of social media and you'll find a vast array of biting comments, the likes of which a feeding frenzy of sharks could not even withstand.
NFL Bag Ban Foes in a Twit:
Not a fan of this clear plastic clutch trend. Like wtf I can see all your s**t. God forbid you carry a tampon or something #fashionrant   — @allisong81
Wait, wait, wait, wait, wait – how did I miss this? WORST IDEA EVER! #NFL #nflallclear 
— @GoKTGo
Result of too many hits to the head? MT "@daisy: The NFL's New Bag Policy is Sexist, Ageist, and Just Plain Stupid  — @cateia97
The main thing is…most traditional-size purses and bags are now banned ….all in the name of safety.  No matter …don't let the NFL bag ban distress you…Scottevest and PortaPocket to the rescue!  These smart solutions can ease the pain of this situation with comfortable and creative ways to address this problem.   Now you can still safely carry all the things you need, without babysitting that (clear) bag.
Since the NFL bag ban still allows fans to carry items in pockets of their clothing, Scottevest's innovative fashions brings function back into play as their savvy garments feature multiple pockets (and I mean multiple… some even have over 30!) ….now THAT'S multi-tasking!  Here's their travel vest and pants as an example (LOVE!):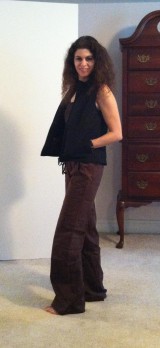 Plus, since of course you can't take your skin off, and there may be times when it's still a mite bit toasty out, PortaPocket gives you a minimalist option to always keep those vital little goodies ON yourSELF. That way you can make sure your ID, cash, cards and cell phone (etc) are going NOwhere! (well, at least nowhere without you, attached)!!  Here's a version with, ahem, one of those little "personal items" so overly mentioned on the comments…and yes, here it's bring shown on the leg, but the system can really be worn ANYwhere on the body, as you like…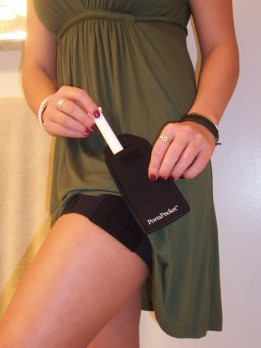 In any event, the season is starting, the NFL bag ban is a reality, and you are now in the KNOW!  To see more of how you can help yourself… stop by www.scottevest.com and www.portapocket.com  Just tell 'em the Sharks sent you  😉
Oh, and btw…if you aren't familiar with the new NFL Bag Ban rules, full information can be found here:  http://www.nfl.com/qs/allclear/index.jsp
So …what's your take?  Do you agree with the NFL bag ban policy or is the NFL going too far?  …Will you try these solutions?  Do share!
This guest post was written by Kendra Kroll, entrepreneur and inventor of thePortaPocket.

For the back story & photo "diary of a leg," stop by and visit:

http://portapocketnotebook.blogspot.com/2012/05/walking-down-street-with-leg-in-my-hand.html

http://portapocketnotebook.blogspot.com/2013/01/new-yearnew-leg-serving-up-some-wacky.html

https://www.facebook.com/pages/PortaPocket/36794284484

…and if you ever want to lose the worry, not your stuff… you know where you can put it.    http://www.portapocket.com ♥