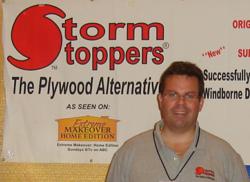 The first thing Storm Stoppers creator John Smith wants the world to know before he goes on Shark Tank is he's NOT in the witness protection program! "John Smith is my real name," he said emphatically when I spoke with him recently. Mr. Smith pitches Storm Stoppers, a system of corrugated plastic panels that replaces plywood when buttoning up a house in advance of a hurricane, in the Shark Tank's 100th show, episode 610.
I first came to know John Smith during season five. He reached out to me and sent some product samples and a copy of his book, Don't File a Patent. John applied for seasons four, five, and six of Shark Tank and he finally made the airwaves during season 6.
"Other than Garret Gee, who applied for all 5 seasons before he got on, I think I might be the most persistent applicant in the history of the show," he explained. "The first time I applied, I had people throwing baseballs at the Storm Stoppers to demonstrate their strength. The second time, I had former NFL quarterbacks throwing footballs at them. This time, I just spoke about the quality of the product. You can't imagine the elation I felt when I found out they wanted me to come to LA!"
"I think what ultimately did it for me is the product. It's different than anything that's ever been on the show. It's not a food product, it's not an app, it's not a baby product, it's unique. I have no competition, really, just plywood and shutter companies, which are much more expensive."
John Smith Heads to the Shark Tank
"I read all the stories about how people prepared. I read every article and book about the Sharks and the producers. The best thing I read was an article in Entrepreneur about Scott Salyers, Shark Tank's casting producer called Want to Get on Shark Tank? 8 Secrets From the Show's Casting Producer. He has this weird kind of power, he makes the ultimate decision about who goes on the show. He likes when the entrepreneurs stand up to the Sharks. He also thinks sales matter more than patents."
"The thing I want people to know about me is, I'm a nice guy. I'm a guest in the Shark Tank. Even though Salyers likes it when the entrepreneurs stand up to the Sharks and give them the 'our product our rules' attitude, sometimes that makes you come off as an a-hole. That makes for good TV, but I hope the viewers see me as a business pro. I've been in this business for ten years, I know my stuff, but I swore I would be nice no matter what. I hope that comes out. My dad always said, 'when things are going great anyone looks good, the true mark of character is how you carry yourself when things go bad.'"
"Overall, it was a great experience. The Sharks and the producers were all super nice. I was nervous, but I kept telling myself something Barbara once mentioned: 'the Shark Tank audience likes true inventor who is selling product themselves.' It was surreal, when I first walked out, it reminded me of the movie Die Hard when Bruce Willis goes first goes into Bonnie Bedelia's office! Shark Tank is meant to be entertaining and we are going to entertain. We have something that will knock your socks off."
Getting Ready for the Shark Tank Effect
John Smith is set to have some fun when  he airs, but he'll be working, too. "We're having a viewing party at our house and we'll be raffling off past Shark Tank products to benefit the Florida Dachshund Rescue organization."
John sent a list of the Shark Tank products he's raffling off. It's like a who's who of successful Shark Tank businesses:
• Kiss Stix
• ReadeRest
• Shark Air Swimmer (not a Shark Tank product but very cool!
• Scrub Daddy
• Ugly Christmas Sweater—Tipsy Elves
• Teddy Needs a Bath
• Rapid Ramen Cooker
• Drop Stop
• Fiber Fix
• Fishing Ammo Red Shotgun Shell Bobbers
• Orig Audio Portable Speaker System
• The Spatty
• 180 Cup
• Bev Buckle
• Pursecase
• Nardo's Natural
"I like the idea of helping a charitable organization. I'd like to be able to do something like what the Hinnants (Grace and Lace) did with some of my capital. Dachshund rescue is a good charity, but I'd like to eventually endow a trust that helps kids close to home – something like hospice care."
John isn't just going to be partying on show night, he's working too. "I'll be answering the phone on show night. Our website is moved to a dedicated server and is set to expect simultaneous page views of 100,000. They'll monitor the traffic throughout the show and adjust server capacity – I hope we don't go down! I want people to find us, but I know they won't buy the first time."
"We track our sales by sample requests. If 100 people request a sample, we'll get 60-70 requests for quotes and 30 of those people will buy. My goal is to get as many sample requests as possible. I want to sell 20,000 Storm Stoppers, which would make us a $50 million company. Johnny Georges from Tree TeePee got 50,000 emails when he aired. If we get that kind of response, that would be fantastic. What I am realistically looking for is about 1000 sample requests, which would mean 300 sales. The problem with our product is people don't think about it until they need it, so we have to get them a sample."
On Patents and Big Box Stores
John Smith has some pretty strong opinions on patents. "Shark Tank is a patent friendly show, I was hoping my views wouldn't hurt me. I knew I needed to be credible and focus on what brought me there – I won't make a million bucks selling my book. The flip-side of patents is trade secret protection. I dont make it easy for people to copy my product and processes. I focus on providing quality, people don't copy quality."
"Storm Stoppers sells direct. We dont sell to Lowes or Home Depot or other big box stores because we can ship cheap and fast. Selling that way allows us to follow 'Lori's Rule:' don't overstock inventory. The thing with big box stores, the Home Depots and WalMarts of the world, is they know if they are your only customer, they have leverage. One of the tricks they use is a Guaranteed Sale Policy where the product supplier agrees to buy back unsold stock. With that, the only way I profit is if I close sales, and I can't be in 100 different Home Depots every weekend."
Beyond the Tank
John Smith obviously couldn't tell me the outcome, but he did have a lot of solid advise for aspiring entrepreneurs and inventors:
"The first thing is write down your idea, then see if you can sell it. If it's a product, make some and see if people will buy it. If it's a service, see if people will pay you to do it. You gotta be a persistent SOB, too. You don't need talent, looks, or money, you need that persistence. Make sure you focus on customers. Remember, if you have customers and no money, you can get money; if you have money and no customers, you'll go broke."
"I'd also caution someone not to rush out and file for patent protection because inventions change over time. Don't worry about getting ripped off, people will buy it and reverse engineer it whether it's patented or not. If you are successful you'll get copied, remember – nobody counterfeits the peso."
I had one more question for John. He answers it on The Hot Dog Truck.