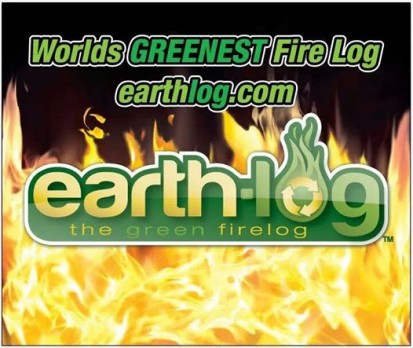 Tom Sanetti invented the Earth Log at his kitchen table while trying to figure out how to effectively burn the TONS of junk mail he received in his mailbox each day. He found by combining waste paper and scrap candle wax, he could create a 100% recycled, green fire log. Tom hopes to light a fire under one of the Sharks in episode 612 and get one of the Sharks to invest in Earth Log.
In the past, using a green fire log meant using freshly cut wood – which wasn't as good as seasoned firewood. Earth Log isn't "real" firewood, it's more like the familiar Dura Flame logs that have been around for years – minus the nasty chemicals, of course. It's a simple concept applied to a product people are familiar with.
Many consumers like the concept, too. Sanetti's grown Earth Log from a kitchen table operation to a national brand with 2 warehouses and a 10,000 square foot manufacturing facility in a few short years. So far, Earth Log only sells online, but with the manufacturing capacity, they should be available "everywhere" soon. A Shark will help get the business to the next level.
My Take on Earth Log
We burn in our fireplace and in an outside Chimera. Most of the time, we use real wood (we live in the woods), but every once in a while, we'll grab a Dura Flame log when we just want some atmosphere in the indoor fireplace. Dura Flame logs are available everywhere – from the grocery store to the gas station. If Earth Log can begin to approach the ubiquity of Dura Flame, they'll be a big business.
If I had a choice at the store between Dura Flame and Earth Log, I'd choose Earth Log. I like green products and purchase them whenever it makes sense to do so. This product makes sense. It's priced the same as Dura Flame and there are more scent options. They even have a new Citronella log – that would be good in the Chimera on a buggy New England evening.
Everything about Earth Log says it's a winner to me. Whether a Shark bids or not, there are sure to be a lot of yuletide Earth Log fires this holiday season. I am solidly IN.
Do the Sharks get Fired Up Over Earth Log?
My guess is this business fields more than one offer. They have all their fiscal ducks in a row, they have manufacturing, they use nearly infinite raw materials (recycled paper and wax), and they are in a proven marketplace. The challenge for Mr. Sanetti is branding and marketing his product and getting it to the masses.
A Shark will bring some cash to fill orders to the table and retail distribution connections. It will benefit Sanetti if he's already made some inroads to big box distribution, because the Sharks will know he's serious.  It wouldn't surprise me at all if Nick Woodman, episode 612's guest Shark, bites on Earth Log. He's a California guy, just like Mr. Sanetti, he has the "correct" last name for this product, and he's a green-outdoorsy type. This product will appeal to him.
The Earth Log website just had a make-over recently, which used to be a strong indicator of a deal. I think they get a deal, whether it's with Woodman or not.