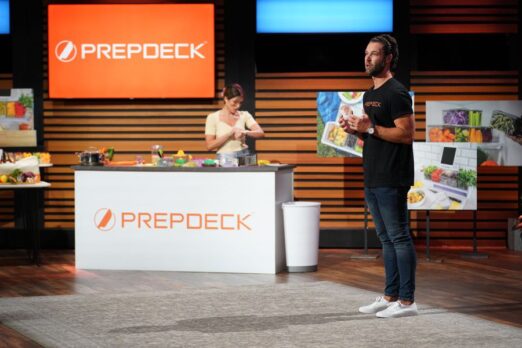 Alexander Eburne invented Prep Deck, a revolutionary kitchen organization system, because his wife stopped cleaning up after him. He likes to cook and do the prep work and his wife did the clean-up. All that stopped when she had a baby, that's when Alexander realized what an unorganized mess he made when prepping. Measuring spoons and cups, knives, graters, storage containers and more were strewn all over his countertops. He thought, "there has to be a better way," so he invented one.
The PrepDeck is an all in one kitchen prep system complete with a retractable and removable cutting board. It comes with 15 storage containers with lids, measuring spoons and cups, kitchen tools that attach onto the containers and a knife storage area. It all folds up into a tidy box. It's decorative, so it will look OK sitting out on the counter. It makes prep work simpler and cleaner. Of course, everything is dishwasher safe. There's also a Prep Deck Plus with 2 additional large containers with lids, an extra large container, an extra cutting board, an adjustable measuring spoon and a tablet stand for reading recipes from a smart device. Individual components are available too.
Alexander got the business going in 2018 with an IndieGogo campaign in 2018 that raised over $800,000 – he was only looking for $45,000! Since inception, he's sold over 150,000 units. At $129 a piece, that's some BIG sales numbers. While he's been successful, he probably needs help managing the rapid growth of the company. Maybe that's why he's in the Shark Tank.
My Take on Prep Deck
I do all the cooking in our house, so I feel Alexander's pain. Unlike his wife, my wife hardly ever cleans up – I'm lucky if she even loads the dishwasher! When I get ready to make a meal, I get everything out I'll need and spread it out on the kitchen counter with a small paper bag for the scraps and waste. By the time I'm done I usually have several Tupperware containers full of food and a good sized mess.
I'm big on kitchen gadgets and I want one of these. I am going to drop some pretty strong hints for Father's Day! With this system, I could get rid of a lot of kitchen clutter – that's a good thing. You can also set it up as a serving station for hors devours. Bonus! I'm in.
Will Sharks Prep a Deal?
The thing that concerns me about this pitch is the sales. With so many sold, Alexander may put off the Sharks with his valuation. That's an oftentimes fatal mistake in the Shark Tank. If that doesn't happen, I can see the Sharks being interested.
Expect a royalty offer from Kevin, this product could fit well with his "something wonderful platform" (think wedding gift).. Daniel is a bit of a home chef, so he could bid. I don't think Mark or Barbara offers anything. That leaves Lori. This is in her wheel house. I could see this selling well on QVC, so if the valuation is good, she'll make an offer.
GET IT ON AMAZON