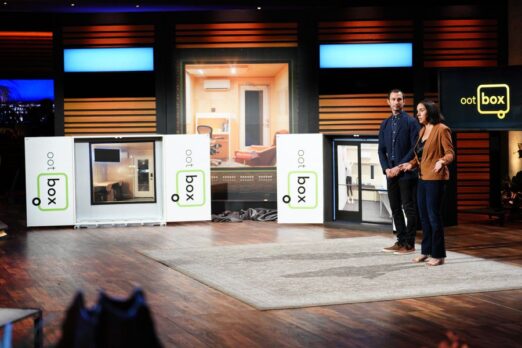 Robbie Friedman created Oot Box, his tiny offices made from recycled shipping containers, because he saw a need for quality, temporary office space that was affordable, sustainable and hassle free. He is an attorney who co-founded  a company called Viewabill, a legal billing software. When that was acquired, he set his sights on starting Oot Box. Robbie and co-founder Allison Zofanr will showcase the tiny offices in Shark Tank episode 1320.
The Oot Box (short for Out Of The Box) is made in the USA from old shipping containers. Robbie call his business "the best thing to happen to shipping containers since the ocean." The company tricks them out with electricity, heating, AC and a variety of configurations based on what they'll be used for. Desks, conference tables and even retail (think pop up coffee shop) configurations are available. Simply pick your set up and OotBox will do the rest. They'll build it and deliver it to your site. All you need is a flat area and a 20 Amp circuit, which my electrician friend says costs $400-$2000 to install. The best part is, no permits are required.
The business works on leasing the soundproof units for $1000-$1100 per month, depending on the style. Companies use them for temporary space and even as permanent "additions" to their office space. Individuals use them as tiny offices in their yards. The minimum lease is four months and, if you decide you want to keep it, they have a lease to own program that applies your first year's lease towards a purchase. Purchase price is $25,000 plus customizations. Businesses that decide to keep one can even have custom branding on both the interior ant exterior of their Oot Boxes. The company likely wants help with marketing.
My Take on Oot Box
I currently have my own home office with a door, so if I need privacy, I close the door. This was not the case in our old house. We had an open floor plan and my office was an alcove in the cathedral ceilinged living/dining room. If people were at home and I needed to make a call, I'd retreat to the bedroom. It was a pain sometimes and a private tiny office would have been most welcome.
Compared to adding on to an existing structure or buying a trailer, an Oot Box is a budget friendly alternative. I can see it as a way for a rapidly growing company to add office space on a temporary basis. It's also a good way for businesses with an open office concept to add a separate, private space without breaking the bank.
Will Sharks Like This Box?
Back in season 10, Barbara offered $350,000 for 25% of CubiCall, a private "phonebooth" for open concept offices. The idea is to provide a space for private phone conversations. That deal never closed, but the business owners claim Barbara advised them on certain issues. While Oot Box is a bit different – they're free standing on the exterior of a building where as CubiCall is an interior product, they serve similar needs. It will be interesting to see if Barbara references that deal.
I'm not sure how the Sharks will view this business. There are no other companies that deliver temporary office space without a permit. With no competition in the space, they should be able to gain market share. Ultimately, the numbers will decide the fate of this pitch. My guess is, since Robbie's been through an acquisition before, their ask won't be Sharky enough and they'll leave with no deal.